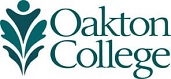 Oakton names Curtis winner of excellence in teaching for part-time faculty member
(Aug. 24, 2017) Timothy Curtis, speech and theater lecturer at Oakton Community College, is the recipient of Oakton's 2017 Ray Hartstein Award for Outstanding Professional Excellence in Teaching for a part-time faculty member.
The Chicago resident was honored at the college's Aug. 14 fall semester kickoff, "Success Matters." Named for the founder of Oakton's Board of Trustees, the accolade epitomizes "excellence in teaching and respect for students and peers" and is presented after a review by the Oakton Educational Foundation Excellence in Teaching Committee. In addition to a plaque, Curtis received $1,500 sponsored by the Oakton Community College Educational Foundation.
"Tim has made a name for himself here at Oakton in a relatively short amount of time," says Chair of Performing Arts John Frisco, professor of speech and theater. "He is a natural and gifted instructor, and students enthusiastically respond to his pedagogy style. Whether it's teaching a speech or acting class or directing one of our shows, Tim does it with energy and passion."
A professional actor for more than two decades, Curtis has performed in various productions for theater troupes including Steppenwolf Theatre Company, Chicago Dramatists and Strawdog Theatre Company. His acting credits also include appearing in a commercial for ESPN.
"I am thrilled and humbled to be the recipient of such an award," Curtis says. "This honor is validation of my work with Oakton students. Being recognized by my Oakton colleagues is a distinction that is simply hard to put into words."
Curtis has taught at Oakton since 2014 and teaches Effective Speech, a course that provides opportunities for students to develop their communications skills by the use of strategies to reduce speaker anxiety.
He earned his master's degree in acting from Indiana University and a bachelor's degree in theater and communications from Towson University.