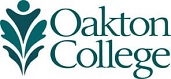 Oakton cross-country coach prepares team for season, life
(Sept. 1, 2017) Entering her eighth season as Oakton Community College's head coach for the men's and women's cross-country teams, Tina Egle sees herself as someone who makes a difference in the lives of athletes.
"I want to help team members not only become the best runners they can be, but also to succeed in life," says Egle, a Glenview resident. "Cross country provides a place for students to bond and enjoy camaraderie with one another. Athletes can also come talk to me about anything that's on their mind. I try to provide the confidence for them to know that they can go far in life whether it's in athletics or academics."
Oakton men's team captain Chingis Enkheayor (Des Plaines, Maine East High School) agrees with Egle's philosophy.
"Coach really cares about us as athletes and as people," he says. "She's always willing to go the 'extra mile' to help us with whatever we need. Coach makes it fun being part of a team by supporting us to being a close-knit group."
The Oakton Owls begin their season Friday, Sept. 1, when they participate in the Elmhurst Early Bird Invitational hosted by Elmhurst College.
"I'm looking forward to having a fun season and doing my best," Enkheayor says. "Running is great exercise, helps relieve stress and makes me more active. Over the summer, I tried to train as much as I could to prepare for the upcoming season by mixing it up by doing speed runs and long runs."
Egle says Enkheayor is vital to the team's success this season.
"His work ethic is flawless, and he's a good role model for others," she adds. "Chingis always stays in shape, and his enthusiasm bring the team together. He's a real go-getter and sets a great example for others to follow. That only makes our team stronger."
Joining Enkheayor this season on the men's side are Brandon Aschoff (Niles, Maine West High School), Julian Zavala (Des Plaines, Maine West High School) and David Meyer (Des Plaines, Maine West High School).
The women's roster currently consists of Yuliana Padilla (Des Plaines, Maine West High School) and Hawah Kamara (Chicago, Sullivan High School).
"My main goals for the season are for the runners to stay healthy and compete to the best of their abilities," Egle says. "Our runners will only get better as the season progresses."
Athletes interested in participating in Oakton's cross-country team are encouraged to contact Egle at tegle@oakton.edu.