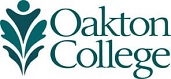 Oakton invites community to Oct. 31 "Halloween Games"
(Oct. 20, 2017) The Oakton Community College Office of Student Life invites children and students of all ages to the "Halloween Games" Tuesday, Oct. 31, at the college's campuses in Des Plaines (1600 E. Golf Road) and Skokie (7701 N. Lincoln Ave.).
"Families in Oakton's district are invited to celebrate Halloween in a safe environment," says Student Life Program Assistant Simi Khurana. "The event was conceived of by Oakton students and is intended to bring together the college and community and expose young people to Oakton in a fun, engaging way."
The games will include free spooky events throughout the day, including trick-or-treating from 9 a.m. to 5 p.m. Activities are open to the public and include the following:
Trick-or-Treating:  Stop in at any office with a pumpkin sticker on the door. 9 a.m. - 5 p.m., Des Plaines and Skokie.
Monster Hunt: Monster stickers will be lurking around campus. Bring "wanted" stickers back to the Student Center for a reward.
Halloween Movie Trivia: Turn horror film knowledge into treasure (11 a.m., Des Plaines cafeteria).
Costume Contest: Win prizes for the ghoul-iest costume (Noon, Des Plaines and Skokie cafeterias).
Fortunes Foretold: Visit a tarot card reader, crystal ball gazer or ask the ouija board about the future (Student Center, Des Plaines).
Horror Photo Shoot: Take selfies with friends or have fun playing Wii games (Student Center, Des Plaines).
Count von Count! Guess the number of candy corn in the jar and win (Student Center, Des Plaines, winner announced at 1 p.m.).
The college's "Halloween Games" team event will take place beginning at 6 p.m. at the Student Center on the Des Plaines campus. Oakton students and club members can form teams of five brave souls to compete and survive the games. Free "finger" foods and blood punch will be provided to competing teams. Teams must register by Wednesday, Oct. 25, in person at the Des Plaines Student Center, by email to studentlife@oakton.edu or online at https://tinyurl.com/oaktonhalloween.
The day's events are sponsored by the Oakton Police, Skokie Events Team, Office of Administrative Affairs, College Program Board, Andale at Oakton, Student Government Association, Office of Student Life and the Division of Business and Career Technologies support staff.
For more information, contact Khurana at 847.635.1699 or skhurana@oakton.edu, or visit www.oakton.edu/events.