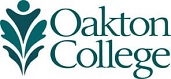 Oakton Earns Two 2017 OLC Digital Learning Innovation Awards
(Nov. 16, 2017) Oakton Community College announced it has earned two 2017 Online Learning Consortium Digital Learning Innovation Awards (DLI) for advancing undergraduate student success through the adoption of digital courseware. Oakton's biology and mathematics departments have each received a $10,000 Digital Learning Innovation Award after being selected from among 60 submissions in year two of the Online Learning Consortium's (OLC) DLI Award competition.
"To receive two DLI Awards is a tremendous achievement," notes Oakton Dean for Online Learning Raymond Lawson. "The two initiatives demonstrate commitments to both student success and equity in our work to reduce the costs of learning materials. Oakton is committed to equalizing the playing field for all students."    
The mathematics department received the award in recognition of the extensive course redesign of the "ROADMath" developmental math program using the Emporium Model in partnership with Pearson's MyMathLab. The program has proved effective in improving success rates and retention rates of developmental math students. The ROADMath team is led by Dean Bob Sompolski and Mathematics Chair Jennifer Strehler and includes faculty members Olga Cedrina, Jinhee Canfield, Michael Farquhar, Safa Hamed, Anna Hammer, Carole Schapiro and Julie Shotsberger.
"With the opportunity to redesign the delivery of our developmental math courses as a result of a Changing the Equation grant from NCAT (National Center for Academic Transformation), Oakton's  new computer-based, modularized format for Road Math developmental classes allows students to succeed at a rate that is 15 percent  higher than before, on average," Strehler says. "Additionally, between 4 and 5 percent of students in ROAD Math classes complete more than one developmental math course per semester."
The biology department implemented BioBeyond, an adaptive digital textbook program, in fall 2016, thanks to a grant from Inspark/Smart Sparrow. Initial results in course sections using BioBeyond indicate that student success increased 12 percent in spring 2017. The BioBeyond team is led by Nicole Perry, Biology chair, and includes faculty members Stephanie Blumer, Kritika Pershad and Mary Obernesser.
"Oakton had two of the 10 faculty-led award winners, which speaks to the college's commitment to teaching and learning and equity in outcomes," Perry says. "Both departments have been striving to improve equity in outcomes in developmental math and non-major biology courses, and these initiatives have shown to be successful. Our initial thoughts are to use the $10,000 award to improve our lab support program and develop new digital tools to improve student outcomes in other biology courses."     
The 2017 DLI Awards were presented to honorees on Nov. 16 by Stacey VanderHeiden Güney, director of the Digital Learning Solution Network, during the OLC Accelerate Conference in Orlando.
"The mission of the OLC DLI Awards is to discover student-centered active learning solutions that advance the world of digital learning for all students," said Kathleen Ives, D.M., CEO and executive director of the Online Learning Consortium. "The awarded projects in this year's competition truly support this mission and serve as valuable models
that other institutions can emulate as they embark on their own digital courseware initiatives."
Awards were determined by two rounds of review, first by a review team of institutional-level and higher education organization-level reviewers, who narrowed the field of submissions for final review by a national panel of judges.
Details about each of the 2017 OLC DLIAward honorees can be found online at
https://onlinelearningconsortium.org/about/olc-awards/2017-DLIAward-recipients.