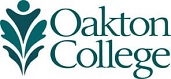 Oakton Early Childhood Center to hold Nov. 29 preschool open house
(Nov. 13, 2017) The Oakton Community College Early Childhood Education Center will be holding an open house for its part-day preschool program from 3-6 p.m. Wednesday, Nov. 29, in Room C151 at the Skokie campus, 7701 N. Lincoln Avenue. The preschool program begins Jan. 3, 2018, and serves children between the ages of three and five.
Attendees will have the opportunity to explore the center, meet the preschool teachers and learn about Oakton's innovative curriculum at the open house.
"We are pleased to offer prospective families the opportunity to explore Oakton's award-winning Early Childhood Education Center during our Nov. 29 open house," says director Monique Hudson. "Parents and children will have the chance to meet our experienced teachers, learn about our teaching methods and see for themselves the spacious classrooms and excellent learning environment."
There are limited slots available for the afternoon preschool program, which runs from 12:30-3:30 p.m. beginning Jan. 3.
Accredited by the National Association for the Education of Young Children and approved by the Illinois Department of Children and Family Services, Oakton's Skokie Early Childhood Education Center in 2017 received the highest designation given by ExceleRate Illinois, the state's quality rating and improvement system for early learning and development providers. The Gold Circle of Quality demonstrates the center's continuous commitment to the families and children it serves.
"The Gold Circle of Quality affirms the quality of work that has been going on here for years," says Paula Luszcz, chair, Early Childhood Education. "We're pleased and proud to provide a lab environment for Oakton students that also fosters the love of learning and helps prepare children for life-long success."
ExceleRate Illinois Professional Development officials said the Gold Circle of Quality is given to a center after a rigorous process by an independent assessor who evaluates its environment, curriculum, teacher qualifications, and family involvement. The state organization evaluates centers that serve children from birth to five years old on how facilities assist in the intellectual, social, physical, and emotional development of young children.
The center also has been recognized for sustainability with the Eco-Healthy Child Care® (EHCC) designation. EHCC is a national program that partners with child care professionals to eliminate or reduce environmental health hazards found within or around child care facilities.
Oakton's Early Childhood Education Center operates as a lab school where early childhood education students gain valuable hands-on experience working at the award-winning center. In addition, Oakton psychology and nursing students have the opportunity to conduct weekly observations at the facility.
For more information about the open house or the Oakton Early Childhood Education Center, contact Hudson at 847-635-1441 or mhudson@oakton.edu.