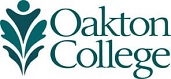 Oakton's art museum to display non-objective works by Medard Klein
(Nov. 27, 2017) Oakton Community College's Koehnline Museum of Art will display more than 50 works by noted Chicago artist Medard Klein beginning Thursday, Dec. 7, through Jan. 19, at the college's Des Plaines campus, 1600 E. Golf Road. The public is invited to a free opening night reception from 5 to 8 p.m.
"Klein had a brilliant career during the 1940s, being heavily exhibited in the Museum of Non-Objective Painting in New York, the Art Institute of Chicago and other museums nationally and internationally," Koehnline Museum of Art Manager and Curator Nathan Harpaz explains. "This exhibition is an attempt to track Klein's career during his golden years and to evaluate his work in the context of non-objective art."
The free display, "Gems from the Koehnline: Non-Objective Art by Medard Klein," features pieces in various media inspired by the distinguished muralist, John Norton. Klein also developed a unique style inspired by European abstract artists.
Harpaz adds, "Klein's compositions echo musical rhythm rendered by geometrical and biomorphic shapes."
The Koehnline Museum of Art is open Monday through Friday, 10 a.m. to 6 p.m., and Saturday, 11 a.m. to 4 p.m.
For more details, call 847-635-2633, or visit www.oakton.edu/museum.