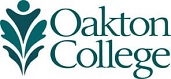 Oakton musicians garner awards at Illinois Skyway Jazz Festival
(Nov. 9, 2017) Three members of the Oakton Community College Jazz Band, directed by Robert Evans, were recognized for their performances at the Illinois Skyway Collegiate Conference Jazz Festival recently held at Elgin Community College.
The following Oakton students received recognition as outstanding soloists: Preetham Marati of Skokie on alto saxophone, Mark Ketelsen of Lincolnshire on trumpet and Thomas Bartlett of Waukegan on trombone.
"I was enormously proud of the performances of all of Oakton's soloists," said Evans, an accomplished performer, clinician and conductor. "They all did a great job of playing at a peak level and impressing the judges with their improv skills. Next fall will be Oakton's turn to host the festival, and that will be very exciting for us."
Honorable Mention performances were also turned in by Marati on alto saxophone and Sergey Cherepanov of Northbrook on tenor saxophone.
The public is invited to hear these award-winning musicians when the Oakton Jazz Band performs at the Noteworthy Festival's Jazz Invasion at 8 p.m. Friday, Dec. 8, at the college's Footlik Theater, 1600 E. Golf Road, Des Plaines. For ticket information, call 847-635-1900 or visit www.oakton.edu/tickets.