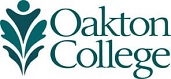 Oakton's dean of online learning looking to raise the bar
(Nov. 17, 2017) In just over a month on the job as Oakton Community College's dean of online learning, Raymond Lawson has been working diligently to find innovative ways to take the college's online learning programs to the next level.
Lawson, who previously served as the director of online learning and educational technology at McHenry County College (MCC), has over the last few weeks been steadfastly meeting with the college's departments.
"Right now I'm in discovery mode and learning as much as I can about Oakton's online learning," explains Lawson. "After the discovering and the needs assessment phases, I will work with my team on a strategic plan on how to move forward to advancing the college's online learning programs."
Lawson says he expects to have his assessment finished in January 2018, noting, "This will serve as a good road map for the college to follow, and I'm excited about the opportunities for students to make the most of Oakton's online learning programs. My goal is to increase support for students and faculty to assist them in being more comfortable in engaging in online learning."
Lawson is extremely passionate about online learning and its potential. While at MCC, he grew the college's online learning presence by 11 percent over seven years. Before MCC, Lawson served as the program director for Kaplan Higher Education, where he designed and implemented online curricula for one of the world's largest and most diverse educational providers.
"You can be in Europe or anywhere in the world and take online classes," Lawson adds. "Online learning is increasing exponentially, and that's a fact, not a trend. Online learning is an essential part of the educational fabric and is becoming a mainstream for teaching in all colleges. This instructional method levels the playing field by giving everyone access to education from anywhere. It's transforming the way people learn and teach."
At Oakton, the percentage of online-only students has been steady, accounting for 13-15 percent of students since 2013. However, the percentage of students taking both online and face-to-face courses increased from 14 to 19 percent over the past four years. In fall 2017, approximately one third of students (32 percent) took either online-only courses or a combination of online and face-to-face courses in Des Plaines or Skokie.
Lawson was hired from a pool 68 applicants. The Board of Trustees of Oakton Community College affirmed Lawson's appointment in September, and the Aurora resident began his first day on the job Oct. 9.
"Raymond stood out among a crowded application pool with his proven track record of ensuring the growth of distance education programs," says Oakton's Vice President of Academic Affairs Ileo Lott. "He will be able to leverage both his extensive technical and academic skills to help our students make the most out of online learning."
Lawson earned his doctorate degree in instructional technology and master's degree in management information system from Northern Illinois University. In addition, he holds a master's degree in international economic development from Eastern University in St. Davids, Pennsylvania.