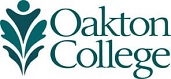 Oakton selects Daniels as director of student life and campus inclusion
(Nov. 21, 2017) Oakton Community College has selected Rock Valley College Dean of Students Shedrick (Rick) Daniels as its director of student life and campus inclusion. The Oakton Board of Trustees approved Daniels' hire at its Nov. 14 meeting. He will start Tuesday, Jan. 2, 2018.
"I am very excited to join the Oakton staff mainly because this position aligns with my personal passion to work in an environment that supports equity, diversity and inclusion," Daniels says. "I am inspired by the institutional commitment to blend student life and inclusion, which I believe is necessary in order to foster a campus culture that is engaged in the practice of creating a more culturally inclusive society."
"We're very excited to bring him on board," adds Vice President for Student Affairs Karl Brooks. "Rick brings vast experience in the areas of student engagement, leadership development and issues important to multicultural colleges like Oakton, including conflict resolution, academic misconduct, sexual assault prevention and education and strategic initiatives aimed specifically at enhancing the campus cultural climate."
As dean of students at Rock Valley, Daniels supervises three areas of Student Services—Dean of Students, Personal Counseling and Student Life—including managers, counselors, student assistants and administrative personnel. He received various honors and awards, including RVC Student Organization Advisor of the Year in 2016 and "Top 25 Black Leaders to Watch: Young Leader on the Rise" in 2015.
Reporting to the assistant vice president for student affairs/dean of access, equity and diversity, the director of student life and campus inclusion provides leadership and direction to the student life staff and provides oversight of student activities and student leadership programs that support Oakton's diverse student body. The director also provides leadership to co-curricular assessment for the division of student affairs, oversees divisional marketing and communication targeted to enrolled students and serves as a conduct officer, when called upon. In addition, the director provides oversight for the procedures regulating the allocation, distribution and authorization of the student activity fees and works collaboratively with staff assigned to coordinate the allocation and effective utilization of space in an effort to support better student success outcomes.
"Rick brings a wealth of experience related to student engagement and equity and diversity," Assistant Vice President for Student Affairs/Dean of Access, Equity, and Diversity Juletta Patrick says. "His professional experience—and energy—aligns well with the college's goals to help students with a variety of identities and socioeconomic backgrounds succeed."
Daniels was selected from a pool of 121 applicants for the position. He earned a master's degree in higher education/professional development in 2011 and a bachelor's degree in journalism, marketing and public relations in 2008, both from the University of Wisconsin-Whitewater.
After a period of observation and engagement, Daniels says he plans to identify areas of opportunity at the college.
"By the end of my first year, all being well, the Student Life staff will have developed a strategic plan that outlines a vision for the department that aligns strategically with the institution's goals for access, equity and inclusion," Daniels notes.
Oakton's commitment to equity is clearly spelled out in its "Success Matters" strategic plan, which says the college "will create an environment that supports the inclusion, engagement and learning for all students through resource allocation, curriculum development, inclusive policies and procedures and ongoing support."