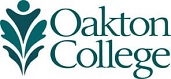 Top 10 of 2017: Oakton Opens New Student Center as Part of Makeover (1)
"It's a place where students know that they belong," said President Joianne Smith during the ribbon cutting ceremony for the vibrant new Student Center in January.
Today, the center is a welcoming home-away-from-home for students to gather, relax and create lasting impressions. The space, located at the heart of the Des Plaines campus, offers casual seating, student collaboration spaces and even a fireplace. It also provides a home to the college's 50-plus clubs and organizations. The bustling Student Center and Student Street corridor offer a view, with 9.5-feet-high glass walls that display Lake Oakton and beyond.
"It's not only a place for students," said Krisi Aglikin, past president of Oakton's Student Government Association. "It was created by students."
Students helped with selection and placement of tech-equipped podiums, a recessed projector screen, and wall-monitors. They also campaigned for the electric fireplace amid the feature wall of reclaimed barn wood.  
Significant progress on the Capital Improvement Plan included the bright new hallway design that begins at the Enrollment Center entrance and extends along Student Street to the Student Center, new entry and way-finding signage at the college, a new energy-efficient roof, new energy-efficient lighting and areas for students to read, relax, work online, gather socially and collaborate on projects.