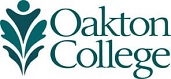 Top 10 of 2017: Planning, Organization and Leadership Changes (3)
Dramatic changes were undertaken at Oakton in 2017, as the college worked to solidify its future through planning, resource allocation and infrastructure improvement.
New Mission, Vision and Values statements were developed to guide decision making at the college, with a new, student-centered strategic plan, "Success Matters," approved to support and advance the college's mission over the next five years.
A new five-year facilities master plan was approved to guide the continued development and maintenance of Oakton's infrastructure.
Considering the numerous leadership changes at the college in 2017, an "Under New Management" sign would have been appropriate to display. The following administrators were hired or began their service at Oakton in 2017:
Vice President for Administrative Affairs Edwin Chandrasekar started in early January;
Ileo N. Lott began as Oakton's vice president for academic affairs later that month;
Juletta Patrick was named assistant vice president for student affairs and dean of access, equity, and diversity in April;
Ruth Williams, who served as the dean of science and health careers since Jan. 1, 2016, was named the college's new dean of curriculum and instruction in August;
With the retirement of Nancy Prendergast, Bradley Wooten, dean of business and career technologies, also became dean of the Skokie campus;
Marvin Bornschlegl was named chief of police and emergency management in August;       
Colette Hands, associate vice president for continuing education and workforce development, became interim chief human resources officer;
Raymond Lawson started in October as the new dean of online learning; and
Rick Daniels was hired as director of student life and campus inclusion effective Jan. 2, 2018.
A realignment of academic units was implemented to increase synergy among departments, resulting in four academic divisions: Science and Health Careers; Mathematics, Engineering and Computer Science; Liberal Arts; and Business and Career Technologies.