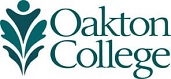 Top 10 of 2017: Student Accolades (5)
Throughout the year, Oakton students shined in a variety of platforms.
In a team effort, Oakton students finished in the top 10 at the third annual Community College Innovation Challenge (CCIC) announced by the National Science Foundation (NSF), in partnership with the American Association of Community Colleges (AACC) this past spring. CCIC fosters development of crucial science, technology, engineering and mathematics (STEM) innovation skills through community-college-student-proposed STEM-based solutions to perplexing, real-world problems. Oakton's project, "Evaluation of Baking Oven Exhaust Recovery," an energy and environment submission, demonstrated the development of innovative technology through the evaluation of exhaust potential from various bakery processes that waste water and energy. Lecturer Helen Skop, Ph.D., served as faculty mentor for the group consisting of students Harry Budge (Chicago); Eduardo Jimenez, Jr. (Lincolnwood) and Rahim Sajwani (Niles).
In another group effort, Oakton Robotics placed 13th in the 2017 NASA Robotic Mining Competition at Florida's Kennedy Space Center, marking the fourth straight year the team finished among the top 15. The 15-member team—comprised of students enrolled in an engineering independent study course taught by Angelo Gero—included Amena Ahmed of Skokie, Niles resident Sanjida Choudhury, Sean Fitzsimmons and Alex Golik of Glenview, Northbrook residents Chris Han and Daniel Kita, Szymon Mirek of Des Plaines, Declan Mulroy of Glenview, Sean Nixon of Lincolnwood, Luke Paltzer of Skokie, Stephen Rodriguez of Mount Prospect, Peter Solomon of Skokie, Jeremy Stymacks of Niles, Diana Stypula of Northbrook and team leader Lynette Sugatan of Niles. Gero, electronics and computer technology lecturer, also served as the team advisor.
Oakton Honors alumna Dominique Tuszynski (Elmwood Park, Elmwood Park High School) was awarded the prestigious Jack Kent Cooke Foundation Undergraduate Transfer Scholarship—the second-straight year an Oakton student earned the award. The current University of Wisconsin student was one of 55 community college students to receive the prominent award from a pool of nearly 3,000 applicants. Each of the Cooke Undergraduate Transfer Scholars have financial need and a strong record of academic achievement as shown by grades, leadership skills, awards, extraordinary service to others and perseverance in the face of adversity.
Sheetal Singh (Des Plaines, Maine West High School) was one of just 20 named to the All-USA Community College Academic Team, which recognizes high-achieving two-year college students who demonstrate academic excellence and intellectual rigor combined with leadership and service that extends their education beyond the classroom to benefit society. She received a $5,000 scholarship in addition to earning 2017 New Century Scholar recognition as the state's top community college student. Singh and Filza Ali (Chicago, Lane Technical College Prep High School) were previously named to the Phi Theta Kappa All-Academic Team.
In the sports realm, many student-athletes also excelled. For the second straight year, sophomore golfer Stephen Bukielski (Niles, Schaumburg High School) qualified for the National Junior College Athletic Association (NJCAA) Division II Men's Golf Championship. Bukielski and Chris Blaha (Hoffman Estates, Conant High School) competed at nationals as freshmen in May.
Oakton baseball infielder Thomas Smart (Evanston, Loyola Academy) was named to the NJCAA's Division III All-American First Team. The freshman led the Oakton Owls in several offense categories during the 2017 season, including runs batted in (53), batting average (.424), home runs (4), hits (75) and slugging percentage (.667) before transferring to UIC.
Also, men's basketball freshman Tafari Beckford (Skokie, Niles North High School) was chosen as an NJCAA All-American as a member of the second team. During the 2016-17 season he averaged 20 points, 10.7 rebounds and 4.8 assists per game, while shooting 53.3 percent from the field.