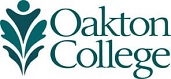 Oakton nursing grads score 98 percent first-time NCLEX pass rate
(Feb. 2, 2018) Oakton Community College nursing graduates earned a near-perfect 98 percent first-time pass rate on the NCLEX, the national professional licensure exam for nurses, well-exceeding both state and national averages in 2017. The national average was 87 percent and the average was 86 percent in the state of Illinois.
"The first-time pass rate is a direct reflection of the hard work of Oakton's nursing students and the combined dedication of staff and faculty to their success," says Nursing Chair Margaret Gas. "Oakton offers students a wealth of resources for them to be successful."
Oakton's rigorous nursing curriculum prepares students for a variety of health care settings. Courses include a combination of classroom and clinical experiences. Classes typically meet in the new $40 million Margaret Burke Lee Center for Science and Health Careers on Oakton's Des Plaines campus, which has a state-of-the art nursing simulation hospital. Students enrich their learning through the clinical experience offered in a variety of health care settings throughout the community.
Oakton has averaged a first-time NCLEX pass rate of approximately 92 percent over the past five years. The 2017 pass rate represents a 14 percent improvement from the previous year. The college garnered an 89 percent first-time pass rate in 2015.
Nurses are in high demand, according to the U.S. Department of Labor's Bureau of Labor Statistics. Jobs for registered nurses are expected to grow faster than average from 2016-2026, with a median salary of more than $68,000 per year (approximately $33/hour).
Oakton's nursing program is approved by the Illinois Department of Financial and Professional Regulation and is accredited by the Accreditation Commission for Education in Nursing (ACEN). Nursing is a limited enrollment program. Admission requirements are posted on the Oakton website, www.oakton.edu/academics/academic_departments/nur/admission_requirements.