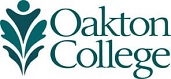 Oakton alumni to host March 17 Chicago Wolves outing
(Feb. 21, 2018) Alumni and friends of Oakton Community College are invited to a night of hockey and camaraderie at 7 p.m. Saturday, March 17, as the Chicago Wolves host the Rockford IceHogs at Allstate Arena, 6920 Mannheim Road, Rosemont. Celebrate St. Patrick's Day and watch the Wolves wear green!
"Oakton's Office of Alumni Relations is excited to host this outing," says Oakton Senior Manager of Development and Alumni Relations Elena Couto. "The Wolves are known for providing a fun, family-friendly atmosphere, and last year's event was a huge hit among alumni and friends. We look forward to sharing another good time with our community."
Great seats are still available and can be purchased online through the Oakton Alumni website, www.oakton.edu/alumni, or by calling 847-635-1893. Two options are available:
Game admission ($20)
Game admission, plus food voucher for a hot dog and soft drink ($25).
Both ticket options include a free Chicago Wolves cap and the first 2,500 fans in the arena receive a Chicago Wolves pint glass. Door open at 6 p.m.
Onsite parking is available for $15 per car (cash only). For information about the Wolves, Allstate Arena and directions, visit the Wolves website, chicagowolves.com.