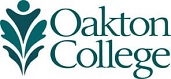 Oakton to host March 6 health careers information session
(Feb. 22, 2018) Prospective students interested in health careers are invited to attend a free information session beginning at 6 p.m. Tuesday, March 6, in Room C120 of Oakton Community College's Skokie campus, 7701 N. Lincoln Ave.
In today's fast-changing world, careers in science and health care are hotter than ever. Studying these dynamic fields at Oakton provides everything needed to launch a successful career.
Learn industry trends and how Oakton programs can prepare students for successful careers. Attendees can learn more about basic nurse assistant training, health information technology, medical assistant, medical laboratory technology, nursing, pharmacy technician, phlebotomy and physical therapist assistant programs at Oakton in addition to horticulture therapy and elder care.
"These information sessions give students an opportunity to explore different health career programs as potential careers," says Oakton Health Career Advisor Jennifer Crowley. "Sessions are designed to discuss the nature of health career trends, estimated salary, essential skills and Oakton's prerequisite and application process."
According to the United States Department of Labor, health careers are among the fastest growing fields as more than 2.1 million new jobs will be added to these occupations by 2024 due to an aging population and the growing number of people who have access to health insurance.
A "best value college" with campuses in Des Plaines and Skokie, Oakton provides a quality education at an affordable price. Further, Oakton students receive a strong return on investment. According to a 2014 report by the Northern Illinois University Center for Governmental Studies, a 25-year-old Oakton graduate can expect a total lifetime earnings gain of more than $724,000, a 56 percent increase over the total lifetime earnings of someone not completing a community college program.
The college will also host the following information sessions at the Des Plaines campus, 1600 E. Golf Road, in the coming weeks:
Nursing: 5 p.m. Thursday, March 8, Room 200, Lee Center;
Physical Therapist Assistant: 6:30 p.m. Thursday, March 8, Room 210, Lee Center;
Medical Laboratory Technology and Phlebotomy: noon Tuesday, March 20, Room 200, Lee Center; and
Health Information Technology: 2 p.m. Tuesday, March 20, Room 2846.
For more information, visit www.oakton.edu/healthcareers, or call 847-635-1835.