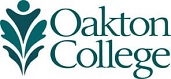 Oakton, IDHS partner for March 7 job and career fair
(Feb. 23, 2018) Oakton Community College has joined forces with the Illinois Department of Human Services (IDHS) for a job and career fair, 9 a.m. – noon Wednesday, March 7, in Rooms P103-104 at Oakton's Skokie campus, 7701 N. Lincoln Ave.
"Job and career fairs are mutually beneficial events for our students, our business and industry partners, and our local community," says Oakton Dean of Student Success Sebastian Contreras Jr. "Students get the opportunity to sharpen their job search and interview skills, our industry partners get the opportunity to market and interview for jobs they need filled and our community members get the opportunity to connect and engage with Oakton and local business partners."
More than 40 companies and vocational organizations will be participating in the fair, including the following:
Acres Group
Anixter Center
Apex3/Premier Security
Bright Horizons
Caravel Autism Health
Champions - KinderCare
Chicago Lighthouse for the Blind
Chicago Public Schools
Chicago Transit Authority (CTA)
ChildCare Careers
College Nannies, Sitters + Tutors
Employment and Employer Services, Inc.
ER Learning Centers LLC d.b.a. Eye Level Learning Center
Express Employment Professionals
First American Bank
First Student, Inc.
Glencoe Park District
Grecian Delight Foods
Heartland Alliance
Homewatch CareGivers
Jewish Vocational Services (JVS)
Kensington School

Klein Tools
Lincolnwood Place
Maine-Niles Association of Special Recreation
Manor Care of Northbrook
Medieval Times
Men's Wearhouse
Net56, Inc.
Nike
Northbrook Park District
NorthShore University Health System
PACE
Per Se Group
Presence Health
Public Storage
Solano-DeCarrier d.b.a. McDonald's
SpeedPro Imaging
The Sherwin-Williams Company
TierPoint LLC
Titan Security Services
Trinity Services Inc.
USIC Locating Services, LLC
"In the end, we hope that our students or community members are filling these jobs and that we're supporting economic development within the local communities we serve," adds Contreras. "As a community college, this is central to our mission and our strategic commitment to strengthening our relationships with the community."
Oakton's strategic plan, "Success Matters," prioritizes making a positive impact on the community by deepening Oakton's relationships with external organizations. These stronger connections with community leaders, community-based organizations, business and industry partners, and transfer institutions enhance the educational experiences of Oakton students.
For more information about the fair, please contact John Mitchell, IDHS, at 847-745-3269 or john.t.mitchell@illinois.gov.