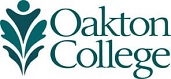 Oakton men's basketball trio receives postseason honors
(March 1, 2018) Three Oakton Community College men's basketball freshmen received postseason honors, highlighted by Jordan Irving (Morton Grove, Maine East High School) being named to the National Junior College Athletic Association (NJCAA) Region IV Division II District 4 All-Region Second Team.
Irving, a guard, led the Owls in scoring with 16.9 points per game after leading his high school in scoring during his junior and senior years. He also averaged 2.7 assists, 4.2 rebounds and 1.7 steals per game in 2017-18.
"Jordan has excelled in a variety of skill sets this season at the request of the coaching staff," Head Coach Mick Reuter says. "Throughout the season, he proved his ability to facilitate on the offensive end and execute defensively. He just continued to improve all season."
Two forwards also received recognition from the Illinois Skyway Collegiate Conference. Darius Jones (Glenview, Glenbrook South High School) earned first-team honors while Jaelin Ferrell, who hails from Louisville, Kentucky, captured a spot on the second team.  
The 6-3 Jones led the Owls in rebounds (9.4) and blocks (1.4) per game, while contributing 12.5 points per contest. Meanwhile, Ferrell delivered 15.9 points and 4.1 rebounds per game.
"Darius is a versatile player whose ability to read the game grew as the season progressed," Reuter explains. "His ability to impact the game on both ends of the court improved dramatically each month.
"Jaelin has been one of our most consist offensive players throughout the year. He is constantly in the gym looking to hone his skills."
The Owls finished the regular season with a 10-20 record and with Irving, Jones and Ferrell all slated to return next season, Reuter is already optimistic about the 2018-19 campaign.
"We are excited for their continued growth in the future and can't wait to see how they elevate our team next season," Reuter adds.