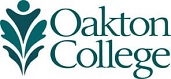 Oakton board elects new leadership, seats new student trustee
(April 18, 2018) The Oakton Community College Board of Trustees elected new board chairman Joan W. DiLeonardi (Des Plaines), vice chairman Benjamin Salzberg (Northbrook) and secretary Martha Burns (Evanston) and welcomed its newly-elected student trustee John Timperley (Park Ridge) at a regular meeting of the board on Tuesday, April 17.
DiLeonardi succeeds Evanston resident William Stafford as board chair. She has served as an Oakton trustee since 2001 and has previously served as board chair, vice chair and secretary. She is a former member of the Executive Committee of the Illinois Community College Trustees Association.
DiLeonardi is the retired executive vice president of Lifelink Bensenville Home Society, a nonprofit charitable health and human service organization. Her experience with large nonprofit organizations includes serving as the executive vice president for Children's Home and Aid Society, a leader in initiating and providing quality services for children, youth and families in Illinois.
"This is my swan song," DiLeonardi says. "I have served Oakton for 17 years, and I am looking forward to completing my service as a board chair again."
Timperley, a freshman from Maine South High School, replaces Brian Chan (Des Plaines) as student trustee. He is co-president of the Honors Student Organization, president of the college's DECA club and active member of Students for Social Justice.
"Education is not just about learning the material, but why the subject is important, why it matters personally and to develop a passion for learning. Those are the moments I strive to create as a student and will strive to create as student trustee," Timperley says. "I am dedicated to the student body to ensure the best possible educational experience at Oakton and to share the incredible values of education and formation of lifelong connections between people with common interests, mindsets and academic pursuits."
Oakton Vice President for Administrative Affairs Edwin Chandrasekar was reappointed as treasurer to serve at the pleasure of the board.
The board also announced dates for its regular meetings for the 2019 calendar year as follows: January 15, February 19, March 19, April 23, May 28, June 25, August 20, September 17, October 15, November 19, and December 10. All meetings will begin at 7:30 p.m., in the Board Room, Room 1506, at Oakton Community College, 1600 E. Golf Road, Des Plaines, except for the February, May and October meetings, which will be held at the Skokie campus, 7701 N. Lincoln Avenue, Room P104.