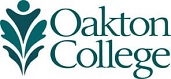 Oakton among NASA Robotics Mining Competition top 10 again
(June 4, 2018) The results are in: Oakton Community College finished 10th overall in the 2018 NASA Robotic Mining Competition at Florida's Kennedy Space Center, marking the fifth straight year the team ended up among the top 15. Oakton robotics finished 13th in 2017, second in 2016, eighth in 2015 and 12th in 2014.
"We're proud to make it back in the top 10 and did much better than last year. The team members worked together extremely well and were extremely prepared," says Angelo Gero, team advisor and electronics and computer technology lecturer. "We went down to the competition knowing our robot worked and there was no panic like the previous year when the robot wasn't working before the contest. Everyone on the team was calm, cool and collected and very confident."
Oakton wrapped up the competition with an overall combined score of 53.58 in the 44-team field, ahead of powerhouse engineering schools Purdue University, Virginia Tech and Embry-Riddle Aeronautical University.
The annual NASA competition pits undergraduate and graduate students from colleges and universities in a design-build-operate contest in which each team's remote controlled robot tries to outmaneuver the others by navigating a simulated, chaotic Martian terrain and excavating rock fragments, known as icy regolith. Teams receive points for their robot that excavates at least one kilogram of icy regolith in the mining portion. In addition, points are also scored for the scientific presentation of the team's technology, a systems engineering paper, the use of social media to create public excitement around the competition and professional conduct and sportsmanship.
Of the 44 schools competing, only 17 were able to dig up any icy regolith at all. While Oakton collected less than one kilogram of regolith, it was one of the schools in the minority that was able to mine rocks.
"That's a testament to how hard Oakton's team worked to test and prepare the robot for the competition," Gero says.
The team comprised students enrolled in an engineering independent study course taught by Gero. Team members include Sandja Choudhurry (Niles), Faran Erafani (Morton Grove), Alexander Golik (Glenview), Szymon Mirek (Des Plaines), Jason Modi (Des Plaines), Jimit Modi (Niles), Sean Nixon (Linclonwood), Devery Paltzer (Skokie), Luke Paltzer (Skokie), Ayush Patel (Des Plaines), Edward Rosenthal (Lake Zurich), Ben Sisserman (Des Plaines), Peter Solomon (Skokie), Jeremiah Stymacks (Niles), Nathan Sugatan (Niles), Elizabeth Sutton (Niles) and Jacob Wachala (Northbrook). Those interested in joining the team can enroll in ENG 200, "Independent Study – Engineering: A Bite Out of Robotics (STEM)."
"With it running as a course, there's more direct faculty involvement and supervision," Gero says.
Ultimately, the chance for Oakton students to compete against schools from all over the nation provides them with invaluable experience.
"This allows Oakton students to see a project from inception to completion," Gero adds. "They have to apply what they learn to make something work and have to deal with real-life experiences including budgets, schedules and being responsible for locating material. Those are all employable skills. Students also learn that their success depends on each other. If one person fails, the whole team can fail."
The team and course has been a winning formula in the NASA competition as well as for the students after they leave Oakton. Stymacks completed a course at NASA and has already landed an internship at Northrop Grumman Corporation. Sisserman is planning to transfer to the University of Illinois at Urbana-Champaign in the fall.
Former student Luella Mascarenhas is a flight controller for NASA at the Johnson Space Center.
Mahavish Mahmood and Inam Sharif are engineers at Commonwealth Edison. Chris Han was immediately hired when his employer learned about his experience with Oakton robotics, and Azher Ghandi, Mohan Vegesna and Surya Vegnesna have landed engineering jobs as well.
Gero says that the team is already thinking ahead for next year.
"Faster and deeper will be the theme for next year's robot," he says. "Our robot performed well, but we need to find a way to dig deeper, as the deeper we dig, the more icy regolith we will be able to collect."
Complete results of the 2018 NASA Robotic Mining Competition are posted on the NASA website.