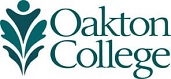 Oakton Names Fakhrid-Deen Winner of Excellence in Teaching for Full-time Faculty Member
(Aug. 14, 2018) Tina Fakhrid-Deen, associate professor of English at Oakton Community College, is the recipient of Oakton's 2018 Ray Hartstein Award for Outstanding Professional Excellence in Teaching for a full-time faculty member.
The Chicago resident was honored at the college's Aug. 13 fall semester kickoff, "Voices: Ignite Understanding, Drive Progress." Named for the founding chair of the board of trustees, the accolade epitomizes "excellence in teaching and respect for students and peers" and is presented after a review by the Oakton Educational Foundation Excellence in Teaching Committee. In addition to a plaque, Fakhrid-Deen received $1,500 sponsored by the Oakton Community College Educational Foundation.
"I am honored and incredibly humbled to receive this prestigious teaching award," Fakhrid-Deen says. "I stand on the shoulders of some fantastic educators who have supported me here at Oakton and along my academic journey. This distinction makes me want to dig even deeper and work even harder on behalf of our amazing students. They deserve the best of me, and I intend to deliver."
In their nominations for the award, students said Fakhrid-Deen "really finds ways to help you understand content while having a great time learning." Students describe her as "helpful and caring, keeping class interesting with a great sense of humor." She is known for being "approachable and encouraging," getting to know each student and providing thoughtful feedback.
A published writer, Fakhrid-Deen also has been active at Oakton, having served on the Anti-Racism Team and has written and directed plays performed at the college. She has directed "The Vagina Monologues" and written "Powerless Gods," an examination of urban education performed as a staged reading in 2017 and a full production in 2018. Presently, she is part of Oakton's Women's and Gender Studies program and a member of the Oakton Chapter of the American Association for Women in Community Colleges (AAWCC).
Fakhrid-Deen recently developed "Project Oakton Voices," which debuted at the college breakfast. The goal of this initiative, developed by the creative writing program, is to use the literary and dramatic arts as a social justice tool to amplify voices that aren't always heard. The project also aims to usher the Oakton community toward conversations that ignite understanding, empowerment and progress.
Fakhrid-Deen began teaching at Oakton in 2004. She earned her master's degree in educational policy from the University of Illinois at Urbana-Champaign, where she also received her bachelor's degree in English and performance studies. Fakhrid-Deen also attended Chicago State University, where she completed her master's degree in creative writing and black literature.