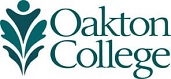 Figueroa's keynote focuses on Oakton first-year theme of 'poverty and privilege'
(Aug. 17, 2018) Eveyln Figueroa, assistant dean of outpatient clinical affairs at the University of Illinois at Chicago, delivered the keynote address, "Poverty and Privilege: How Understanding Your Privilege Can Help you Better Care for Your Students," Monday, Aug. 13, as part of Oakton Community College's orientation week, the kick-off to the fall semester.
"Poverty is going to affect your students and you have to be willing and able to talk to them about it," Figueroa told a packed audience.
And poverty is something she deals with on a daily basis. Figueroa also is executive co-director for the Figueroa Wu Family Foundation, a nonprofit organization that helps bring services into areas of people who are underprivileged in a dignified manner. The foundation also operates the UI Health Pilsen Food Pantry in Chicago that distributes provisions where they are needed most throughout Cook County.
Figueroa's keynote tied directly to Oakton's engagement and enrichment program for first-year students, which explores equity through the lens of "poverty and privilege" and calls attention to economic, social and political inequality. Beginning in the fall semester, this thematic exploration will be infused into classroom and co-curricular activities, allowing students to connect the dots in a welcoming environment, critically examining disparities by analyzing the language, contexts, cultures and systems of power that determine those who have—and those who do not.
"Eveyln's talk was extremely powerful and gave each of us a lot to think about on how to help students," Oakton President Joianne Smith said. "It helped to raise awareness of poverty in everyday life."
Figueroa's message to Oakton administrators, staff and faculty focused on how poverty affects access to higher education and ways to combat that.
"People in education need to realize that each student comes from a different background," Figueroa said. "The more supported students are the more likely they are to stay enrolled in school."
Figueroa's presentation resonated with Oakton faculty, particularly Distinguished Professor of Psychology Bob Frank, who just happened to mentor her as middle school student at a summer camp years ago.
"Her presentation was fantastic," Frank said. "I'm so proud of her. She has a unique way of motivating others. She was spot on that we need to be more understanding of our students and the barriers they've had to overcome."