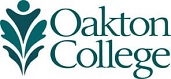 Oakton women's soccer leaning on new recruits for successful season
(Aug. 23, 2018) Oakton Community College women's soccer team has something to prove this year – that last season's record (3-11) was an anomaly. From 2014-16, women's soccer coach Steve Brody has averaged nine victories a season. With this year's talented recruits, Brody, who enters his 13th season at the helm, is confident his squad will continue its winning ways.
"This season we have more scoring threats, and that leads to more goals, which usually translates to more wins," Brody says. "We have a strong attacking team that is fun to watch because of its dynamic playing style."
Brody has named midfielder/forward Caitlin Dalton (Chicago/Evanston Township High School) and defender/midfielder Diana Lopez (Waukegan/Waukegan High School) as captains for the 2018 season.
"Catilin trained with the team last season but never played in a game," Brody says. "She has speed and the ability to score. Diana is a returner who is an extremely smart player and the reads the game very well."
According to Brody, two key new players for the Owls are freshmen forwards Annika Schmidt and Gracie Harper, both Park Ridge residents and graduates of Maine South High School.
"Annika and Gracie are intelligent soccer players with good vision," Brody says. "Annika is very versatile and can also play different positions. She is technically solid, and with her vision, she should make an immediate impact. Gracie is fast and an accurate shooter, and that's what you're looking for from a forward."
Freshman Liz Stangel (Des Plaines/Willows Academy) is expected to see plenty of time in goal. Last season with the Eagles, Stangel was named to the Independent School League (ISL) All-Conference Soccer Team.
The Owls open the 2018 season on the road at Lake Michigan College Aug. 23.