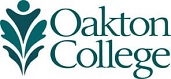 Oakton Hosts Part-time Job Fair Sept. 19
(Sept. 7, 2018) Bring a resume and attend Oakton Community College's part-time job fair 11:30 a.m. to 1:30 p.m. Wednesday, Sept. 19, on Student Street at the Des Plaines campus, 1600 E. Golf Road. Sponsored by Oakton's Career and Transfer Center, the job fair is free and open to the public.
"Job fairs are mutually beneficial events for our students, our business and industry partners and our local community," says Oakton Dean of Student Success Sebastian Contreras Jr. "Students get the opportunity to sharpen their job search and interview skills, our industry partners get the opportunity to market and interview for jobs they need filled and our community members get the opportunity to connect and engage with Oakton and local business partners."
More than 40 businesses are scheduled to participate in the fair, including the following:
Belmont Bank & Trust
Big Blue Swim School
Bright Horizons
Brookdale Senior Living
Caravel Autism Health
Casey Automotive
College Nannies, Sitters + Tutors
Dayton Freight Lines
The Dump Furniture Outlet
FedEx Ground
Georgia Nut Company
Goldfish Swim School of Park Ridge
JCC Chicago
Laser Quest
Levin Associates
Marriott Lincolnshire Resort
McGaw YMCA
Mount Prospect Park District

Net56, Inc.
NorthShore University HealthSystem
Overtime Athletics - Chicago
Park District of Highland Park
Physicians Immediate Care
Potbelly Sandwich Shop
Rivers Casino
Sears
Sherwin-Williams Company
Solano-DeCarrier d.b.a. McDonald's
Speedway LLC
SportsKids Inc.
Sherwin-Williams Company
Trinity Services. Inc.
Winnetka Youth Organization
Woodward. Inc.
YMCA of Metropolitan Chicago
In the end, we hope that our students or community members are filling these jobs and that we're supporting economic development within the local communities we serve," adds Contreras. "As a community college, this is central to our mission and our strategic commitment to strengthening our relationships with the community."
Oakton's strategic plan, "Success Matters," prioritizes making a positive impact on the community by deepening Oakton's relationships with external organizations. These stronger connections with community leaders, community-based organizations, business and industry partners and transfer institutions enhance the educational experiences of Oakton students.
For more information about the fair, call 847.635.1735.