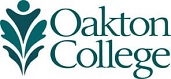 Oakton Partners to Host Oct. 15 Health Care Hiring Event
(Sept. 28, 2018) Oakton Community College is joining with National Able Network and the Illinois Department of Employment Security (IDES) for a health care hiring event 10 a.m. to 12:30 p.m. Monday Oct, 15, at the college's Des Plaines campus, 1600 E. Golf Road in the TenHoeve Center. The free event is open to the public and early entry for veterans begins at 9:30 a.m.
"We are delighted once again to collaborate with National Able Network and IDES on this hiring event," says Oakton Director of Workforce and Strategic Partnerships Ruben Howard, II, Ph.D. "The event is consistent with Oakton's commitment to workforce and economic development in our communities by connecting job seekers to opportunities that advance or enhance their career."
The hiring event will feature more than 40 employers with career openings in positions at health care providers, including hospitals, nursing homes, assisted-living, hospice providers, pharmacies and pharmaceutical companies.
All candidates should dress professionally and bring resumes to distribute to employers.
Free workshops for attendees include "Tips for an Effective Job Search" at 10 a.m. in Room 2812 and "How to Use LinkedIn in Your Job Search" at 11 a.m. in Room 2816.
Employers and job seekers who plan to attend may register at https://bit.ly/B7I1Si.