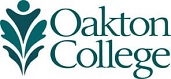 Evanston's Dalton named Oakton female student-athlete of the month
(Oct. 16, 2018) Oakton Community College sophomore Caitlin Dalton (Evanston, Evanston Township High School) has been selected the college's female student-athlete of the month for October. The student-athlete of the month is presented nine months during the year to one male and one female student-athlete displaying excellence in the areas of academics, athletics and campus involvement or service.
Dalton is the captain of the women's soccer team and working toward her associate in arts degree at the college. Her future plans include earning her bachelor's degree in interior design and giving back to Oakton using her nearly 20 years of soccer experience to help others.
"I'm very flattered to receive this honor," Dalton says. "I never thought I would get an award like this. Oakton has helped me tremendously to become a leader, and it's nice to be recognized for my hard work."
On the field, Dalton leaves it all on the field, leading the Owls in scoring by a wide margin. But she also leads by example.
"I take my responsibilities as captain very seriously," Dalton says. "Being a captain is a lot more than you would think. It involves making sure every player has a ride to and from soccer and is keeping up with their studies. I also take the initiative to be a good role model by showing up early to practice, designing and running drills and giving lots of direction on and off the field to earn the trust of my teammates."
Owls head coach Steve Brody says that Dalton plays a key role on the squad: "Caitlin is a team leader with her energy and positive attitude. She's an intense player and the heart and soul of the squad. She lives and breathes the game and enjoys being around her teammates."
Dalton manages both academics and athletics with much stealth.
"I find that it takes quite a balance to do both," she says. "I get out of class shortly after noon and then soccer practice is 2:15 p.m. I try to get a chunk of my homework and studying in between classes and practices. Also, it's important that I take good care of my body by getting at least eight hours of sleep and eating a healthy diet."
And with soccer flowing through her veins, Dalton admits the sport makes up a lot of her DNA.
"I love being part of a team and pushing everyone to the next level. My teammates also push me and I love being challenged," she says, noting she wants to continue playing as long as she can after college. "I don't know where I would be if I wasn't playing soccer. Soccer teaches life lessons about getting better, being motivated and staying humble."
Dalton is realistic and knows she can't play on the field forever.
"Eventually I would love to give back to the Oakton soccer program and come back and coach," she says. "I've had so many good coaches since I was playing as a 4-year old