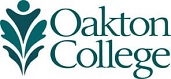 Oakton students and employees assist community during Annual Day of Service
(Oct. 2, 2018) More than 100 Oakton Community College students and employees volunteered to roll up their sleeves and put in a hard day's work for service agencies during the college's Annual Day of Service Friday, Sept. 28.
Participants assisted nonprofit groups including the Salvation Army in Norridge, Emily Oaks Nature Center in Skokie, Heartland Animal Shelter in Northbrook, Family Focus in Evanston and WINGS in Elk Grove Village.
Oakton's Day of Service also provided aid for the homeless, gardening and restoring ecological areas. As part of these efforts, volunteers assisted in harvesting Oakton's community garden, which supplies organic food to local food pantries.
Karen Roth, Oakton instructor and service learning coordinator, said the day of service helps plant seeds for participants.
"Once you become involved in any service experience, you're hooked," Roth says.
Students agree with Roth's assessment.
Kathleen Rosas, a Niles resident, spent most of the day at the Salvation Army cleaning and painting.
"It was a fun thing to do to help the community without expecting anything in return," she says. "Oakton's Day of Service is very worthwhile, and I would do this again."
Alena Alwan of Glenview opted to spruce up the community garden at Oakton's Des Plaines campus.
"I spent most of the time mulching and planting seeds," she says. "The community garden helps so many people, and I think it's important to help others get to a better place in their lives."
Oakton Coordinator of Student Life Krissie Harris, who served as an organizer for the Day of Service, led a group to Family Focus, an organization that offers community-based programs that help parents and guardians gain confidence as the primary educators of their children. Volunteers performed a variety of tasks including composting a garden and sorting through canned goods in the food pantry.
"This helped me to better understand that expired food can be reused to fertilize the earth," Harris says. "By the end of the day I felt much closer to Mother Nature."
And beneficiaries of Oakton's selflessness were extremely grateful.
"The Oakton volunteers were a godsend," says Colette Allen, center director of Evanston's Family Focus. "We only have a small crew of garden volunteers. The group from Oakton accomplished in one day work that would have taken us weeks. We're looking forward to their return."