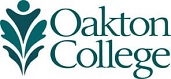 Oakton art exhibit featuring works of Harold Haydon opens Dec. 6
(Nov. 19, 2018) Oakton Community College's Koehnline Museum of Art will display unique compositions by Chicago artist Harold Haydon (1909-1994), known for introducing a radical new approach to painting composition, Thursday, Dec. 6, through Friday, Jan. 25, at the college's Des Plaines campus, 1600 E. Golf Road. The public is invited to a free opening night reception for "Gems from the Koehnline: The Harold Haydon Collection" from 5 to 8 p.m.

"Haydon promoted a unique theory which he called 'binocular vision,'" Koehnline Museum of Art Manager and Curator Nathan Harpaz explains. "His 'double vision' images followed a visual perception concept of the overlapping capture of images by human eyes. Works on display will consist of oil paintings, drawings, prints and experimental 3D objects reflecting Haydon's artistic evolvement from the Great Depression until the late 20th century."

From 1944 until 1975, Haydon taught art at the University of Chicago. He also served as an art critic for the Chicago Sun Times from 1963-1985.

Harpaz adds, "Haydon's kindness as a person and open mindedness as an artist were his signature traits as an art educator and critic. He also served as a champion for local artists to nurture and inspire artists to continue producing their best works. In doing so, he was instrumental in changing the face of art in Chicago."

The Koehnline Museum of Art is open Monday through Friday, 10 a.m. to 6 p.m., and Saturday, 11 a.m. to 4 p.m.

For more details, call 847.635.2633 or visit www.oakton.edu/museum.