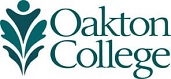 Oakton men's soccer players garner postseason honors
(Nov. 7, 2018) Oakton forward Bukola Abdulwahab-Omotose (Ilorin, Nigeria/British Nigerian Academy) and defender and captain Brian Ramos (Addison/Addison Trail High School), received countrywide postseason recognition by being named to the National Junior College Athletic Association (NJCAA) Region IV All-Region Men's Soccer Team.
Abdulwahab-Omotose, who was named Oakton's male student-athlete of the month for September, led the Owls in scoring with 58 points (24 goals, 10 assists), ranking fourth in the nation in goals scored. Ramos anchored a stingy defense that allowed just 1.36 goals per game on the season. Oakton (13-7) finished the season Oct. 27 with a 2-0 loss to Morton College in the NJCAA Region IV Championship.
In addition, Abdulwahab-Omotose, Ramos and midfielder Sebastian Padua (Mexico City, Mexico/Addison Trail High School) earned spots on the Illinois Skyway Conference All-Conference Men's Soccer Team. Abdulwahab-Omotose was named to the first team, Ramos was a second-team selection and Padua was an honorable mention.
Owls head coach Steve Brody says that the Oakton trio were deserving of their post-season accolades: "The sophomores dedicated themselves to the sport this season. I'm proud of each one of them for their commitment to the Oakton soccer program and their teammates."