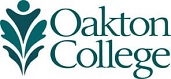 Oakton honor society announces officers, inducts new members
(Nov. 5, 2018) The Oakton Community College chapter of the Phi Theta Kappa International Honor Society (PTK) swore in nine new officers and inducted 105 new members at its Nov. 15 induction ceremony.
The Alpha Iota Phi chapter officers include President Gabija Ulcinaite (Morton Grove), Vice President for Scholarships Andrew Kostiv (Park Ridge), Vice President for Leadership Gabriel Dutra (Chicago), Vice President for Service Vlada Kirilenko (Glenview), Vice President for Fellowship Joshua Rodriguez (Skokie), Secretary Justin Oo (Niles), Treasurer Hernan Razo (Chicago), Public Relations Officer Angel Mary (Des Plaines) and Honors in Action Director John Timperley (Park Ridge).
"Congratulations to Oakton's new PTK inductees for this recognition of their academic achievements," says Program Assistant Simi Khurana, chapter advisor. "We are pleased to celebrate their successes and look forward to providing them even more meaningful engagement opportunities through honors activities, leadership training and service programming."
Oakton's 2018 inductees include the following students:
Santino Abbinanti
Kena Abo Alzahb
Carlos Acevedo
Jessica Adams
Ajmal Ahmed
Maliha Ahmed
Reem Alasali
Suleman Ali
Raina Allen
Amaar Amin
Jessica Barnes
Sem Belay
Migle Birmanaite
Ryan Boudart
Alexander Brennan
Adrian Carrazco
Christopher Chase
Mark Chavez
Crystal Christensen
James Cu
Adrian James Dela Cruz
Ronak Desai
Trinidad Diaz
Joshua Dimbert
Robert Dodan
Anna Domusiewicz
Modesto Duarte
Chingis Enkhbayar
Marina Feffer
George Florea
Jonathan Fonseca
Michaela Freitova
Jorge Frias
Ana Galvez Mendez
Sabrina Gavzy
Robin Goettsch
Izabela Golabek
Alicia Gonzalez
Jakub Gronkiewicz
Michelle Guerrier
Amena Hashmi
Rafael Hernandez
Seisho Hosotani
Asjad Husain
Martha Ingallinera
Julie James
Isidora Jovanovic
Erik Kell
Vutha Keo
Marina Khan
Timothy Kim
Yong Hyun Kim
Rohit Koliyatt
Rachel Koshy
Paul Kuhns
Zoe Lance
Stephen Landry
Kevin Lee
Claire McClintock
Misty McDorman Warfield
Fiona McLaughlan
Latrice Mular
Catherine Niewinski
Stephen Norte
Callan Padron
James Paisley
Rocco Pantaleo
Jeoungjun Park
Daivik Patel
Arbella Pera
Soniya Powathil
Charles Prangl
Giselle Renteria
Elizabeth Rideout
RobynRose Schulman
Ruiz Roque
Rustam Sadygov
Josekutty Saji
Raisa Salik
Marissa Scarbro
Ayesha Sharif
Shaad Binte Jaman Shopnil
Odavia Smith
Alexa Socha
Neerada Sojan
Oscar Solis
Amanda Stein
Matthew Strehler
Albin Sunny
Conrad Szczepanski
Chaitali Tailor
Javeria Tariq
Tarmudi Tarmudi
John Timperley
Delgermaa Tumendelger
Alice Tvishor
Pedro Umpire
Galyna Veletyk
Sarah Veliciu
Paula Viazzi
Elishea Walker
Christine Warta
Krzysztof Wiech
Laura Wojtul
Sargon Yako

Oakton's Alpha Iota Phi chapter has inducted more than 4,000 members and alumni since 1984 and has consistently been recognized as an outstanding chapter. It earned the Five-Star Outstanding Chapter designation in 2015-16. The chapter also received Outstanding Officer Team recognition, won the Outstanding College Project award and earned a Paragon Award for the chapter advisor.
Phi Theta Kappa is the premier honor society recognizing the academic achievement of community college students to grow as scholars and leaders. The society has more than 3.2 million members and nearly 1,300 chapters in nine nations.