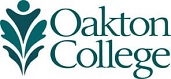 Evanston volleyball player named Oakton female student-athlete of the month
(Nov. 19, 2018) Oakton Community College sophomore Yngride Jean-Philippe (Evanston, Evanston Township High School) has been selected the college's female student-athlete of the month for November. The student-athlete of the month is presented nine months during the year to one male and one female student-athlete displaying excellence in the areas of academics, athletics and campus involvement or service.
Jean-Philippe, a middle blocker, played a key role in the turnaround of the Oakton volleyball program as the Owls finished 20-12 this past season after a one-win season in 2017. The Owls advanced to the district semifinal round of the National Junior College Athletic Association (NJCAA) Division II Volleyball Tournament, just one game away from qualifying for nationals
"I wasn't expecting this award," Jean-Philippe says. "However, it does feel good to know hard work pays off. "I'm extremely honored to represent the college in a positive light."
Jean-Philippe's 5-foot-11-inch frame allowed her to dominate on the court. She led the nation in solo blocked shots (121) and led the Owls with 296 total kills. Her efforts resulted in being named to the NJCAA Region IV All-Region Team and to the Illinois Skyway Collegiate Conference Volleyball All-Conference First Team.
"Without a doubt, Yngride is one of the top players in the district and is one the most gifted athletes I've ever worked with in my 10 years of coaching," says Miguel Calvillo, Oakton head coach. "She may not be one of the most talkative players on the team, but she is a gentle giant in the way she hits the ball. The loudest noise in the gyms this season came from when she hit the ball, the ball hitting the ground and the 'oohs and aahs' from the crowds."
Jean-Philippe says her passion for the sport began at ETHS: "I love the competitiveness, of the sport. I enjoy competing with others, even my teammates. Also because of the sport, I've made many life-long friends."
She brings that same passion to the classroom with similar results, garnering a 3.28 cumulative grade-point-average. Jean-Philippe plans on finishing her courses at Oakton through the summer so she could earn her associate degree with the career goal of becoming a pediatric nurse.
While she's no longer playing volleyball at the college and continuing her athletic career remains up in the air, Jean-Philippe gave all she had to the Oakton Owls.
"I always try to assist my teammates by encouraging them to go to class, and if they had any questions about the school, I try to find answers for them," says Jean-Philippe, who also is a student worker for the college's athletics department. "I especially feel like I was a role model for the freshmen on the team to show them how to balance school and volleyball. I just like knowing that I was able to help in some way."