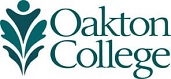 Oakton recognizes 24 nursing graduates
(Dec. 19, 2018) Oakton Community College recognized its 24 fall 2018 nursing graduates at a Thursday, Dec. 13, pinning ceremony at the Des Plaines campus, 1600 E. Golf Road.
"Congratulations to the Class of 2018," Nursing Chair Margaret Gas says. "This class was very supportive of each other and also provided tutoring and mentoring to other nursing students. We wish our nursing graduates the best of luck in their future endeavors."
The graduates include seven from Des Plaines, four from Niles, three from both Skokie and Evanston, two each from Northbrook and Park Ridge and a graduate from Chicago, Deerfield and Morton Grove. The complete list is as follows:
Sara Atkinson, Skokie;
Jessica Braslavsky, Morton Grove;
Kyra Buljina, Niles;
Paige Carroll, Northbrook;
Jennifer Davis, Evanston;
Neil De Los Trinos, Des Plaines;
Elena Deaconescu, Niles;
John Duong, Skokie;
Carmen Halverson, Des Plaines;
Melanie Jackson, Evanston;
Jasmine Jimenez-Munoz, Des Plaines;
Masum Kidiwala, Park Ridge;

Olivia Kramarz, Des Plaines;
Zaheena Mithani, Des Plaines;
Yeonjung Moon, Deerfield;
Janey Park, Niles;
Julie Rudd, Des Plaines;
John Rudden, Chicago;
Agnieszka Ryszkiewicz, Niles;
Karen Sakas, Northbrook;
Ana Salas, Des Plaines;
Mary Tatum Sevilla, Evanston;
Vanessa Silvano, Skokie; and
Gloria Warta, Park Ridge
Halverson graduated with high honors for earning a GPA between 3.75 and 3.99 and received membership in the Alpha Delta Nu Nursing Honor Society. The National Organization for Associate Degree Nursing (N-OADN) recognizes top associate degree nursing students with membership in Alpha Delta Nu. In addition to GPA requirements, members must have demonstrated conduct on campus and in the clinical areas that reflects both integrity and professionalism and must have completed a group capstone project, which focuses on either recruitment or educational activities.

In addition, Atkinson, Park, Ryszkiewicz, Sevilla and De Los Trinos graduated with honors, earning a GPA between 3.5 and 3.74 in their collegiate studies.
Nurses are in high demand, according to the U.S. Department of Labor's Bureau of Labor Statistics. Jobs for registered nurses are expected to grow faster than average from 2016-2026, with a median salary of more than $68,000 per year (approximately $33/hour).
Over the last five years, Oakton has averaged a first-time pass rate of approximately 92 percent on the NCLEX, the national professional licensure exam for nurses.

Oakton's rigorous nursing curriculum prepares students for a variety of health care settings. Courses include a combination of classroom and clinical experiences. Classes typically meet in the new $40 million Margaret Burke Lee Center for Science and Health Careers on Oakton's Des Plaines campus, which has a state-of-the art nursing simulation hospital. Students enrich their learning through the clinical experience offered in a variety of health care settings throughout the community.

Oakton's nursing program is approved by the Illinois Department of Financial and Professional Regulation and is accredited by the Accreditation Commission for Education in Nursing (ACEN). Nursing is a limited enrollment program, and applications for fall 2019 are being accepted through Thursday, Jan. 31. Admission requirements are posted at www.oakton.edu/academics/academic_departments/nur/admission_requirements.