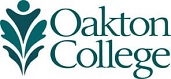 Top 10 of 2018: Physical Transformation (2)
Oakton continued to make progress on the 2017-2022 Facility Master Plan, transforming physical space, with updates to the main entrance, Student Street, and the opening of the Center for Campus Inclusion and Diversity (CCID) at the Des Plaines campus. West end reconstruction also began.
Open since spring, the new CCID strives to create a welcoming environment for students, employees, and community members alike. The center helps the college meet one of the four intentions of the Success Matters strategic plan—equity—by providing a safe space for students, educational experiences, and interactive learning opportunities. It answers the needs and concerns of historically underserved students, helping them access opportunities through programs, services and resources.
Oakton continued executing upon the plan to improve its infrastructure and create inspirational spaces for teaching and learning. The master plan:
Is centered on student success
Supports student learning and instruction
Is financially responsible
Is environmentally sustainable
Creates flexible and adaptive environments
Creates a sense of place that's welcoming and inviting
Embraces advanced technology
Addresses deferred maintenance needs at both campuses.
Students have embraced the new spaces and take full advantage of all the new study and community meeting areas in the lobby and on Student Street in Des Plaines. "I really like it! The new design provides lots of dispersed areas to find private study or tables for group study," said biology student Haris Garovic.