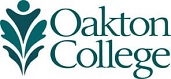 Top 10 of 2018: Oakton Partnerships (4)
Oakton and Elmhurst College signed two agreements—an innovative dual enrollment agreement and a guaranteed admission agreement in May. The dual enrollment program is open to students who have graduated from high school or have a high school equivalency. The admissions agreement guarantees a seamless transfer process for students who meet the requirements and earn an associate degrees at Oakton.
On the workforce training front, Oakton's Office of Continuing Education and Workforce Development partnered with LSG Skychefs to provide training in basic electronics, blueprint reading and English as a second language (ESL) for its employees.
In addition, Oakton's Nursing Program partnered with NorthShore University Health Systems to provide Chicagoland's only perioperative nurse training program over the summer. The innovative elective in perioperative nursing was offered as an eight-week course preparing nursing students through the use of theory and clinical experience to provide care to patients throughout the surgical experience.
In conjunction with a celebration of the company's 100th anniversary, John Crane presented Oakton with a check symbolizing the company's lasting partnership with the college that has contributed more than $320,000 since 1982.