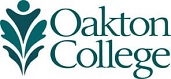 Oakton's Jones selected NJCAA Region IV Player of the Week
(Feb. 12, 2019) Oakton Community College sophomore forward Darius Jones (Glenview, Glenbrook South High School) was selected National Junior College Athletic Association (NJCAA) Region IV Division II player of the week for District D.
In two contests during the week of Feb. 4, Jones averaged 19 points, 10.5 rebounds, 3.5 assists and 3.5 blocks. He tallied 19 points, 11 rebounds, 6 assists and 5 blocks at Elgin Community College Feb. 7 and had 19 points, 10 rebounds and 4 steals in the Owls' 81-62 win at Waubonsee Community College Feb. 9.
"Darius is a very versatile player for us," says head men's basketball coach Mick Reuter. "He is an efficient scorer and can defend anywhere on the court. He has grown as a playmaker and most importantly as a leader. I'm very proud of his continued development."
For the season, Jones leads the Owls in rebounds (8.0 per game), assists (2.9 per contest), blocks (2.5 per game) and games started (25). He also is averaging 13.8 points per contest.
As a freshman for Oakton, Jones was named to the Illinois Skyway Collegiate Conference Men's Basketball First Team. In 2017-18, the 6-3 Jones led the Owls in rebounds (9.4) and blocks (1.4) per game, while contributing 12.5 points per contest.