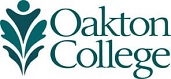 Five Oakton faculty members receive tenure
(Feb. 25, 2019) The Board of Trustees of Oakton Community College granted tenure to five faculty members at its Feb. 19 public meeting in Des Plaines.
The following faculty members were acknowledged for the honor at the meeting:
Associate Professor of Biology Stephanie Levi-Blumer of Chicago;
Assistant Professor of Anthropology and Sociology Anika Jones of Milwaukee, Wisconsin;
Professor of Nursing Toni Maglione-Solans of Mount Prospect;
Professor of Nursing Pamela Pedersen of Wauconda; and
Assistant Professor of Computer Networking and Systems/Computer Information Systems Clarence Sistrunk of Chicago.
"I was extremely proud to make the tenure recommendation for these five faculty members," says Oakton's Vice President for Academic Affairs Ileo N. Lott. "They are exceptional individuals who are committed to student learning and student success in and out of the classroom."
Oakton employs approximately 800 full- and part-time faculty providing instruction at campuses in Skokie (7701 N. Lincoln Ave.) and Des Plaines (1600 E. Golf Road), in addition to online.