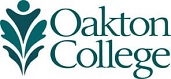 Oakton Announces Board of Trustees Outstanding Student Award Winners
(April 23, 2019) Oakton Community College announced four winners of the Board of Trustees Outstanding Student Award at its annual Student Leadership Banquet. Honorees Andrew Kostiv (Park Ridge, Maine South), Aishat Mohammed (Evanston, Mather High School), Joshua Rodriguez (Skokie, Niles North High School) and Luz Trejo Camarillo (Des Plaines, Maine West High School) were presented their awards by Board Chair Joan DiLeonardi Thursday, April 18, in Niles.
Each year, the Oakton Board of Trustees recognizes student recipients who have completed the college's Emerging Leaders program with a $300 scholarship for outstanding leadership.
"It is an honor to recognize the outstanding students who make Oakton Community College the wonderful institution that it is," says Director of Student Life and Campus Inclusion Shedrick Daniels. "Co-curricular involvement is a major part of the college experience, and we believe that the students who walk our halls today will be the leaders who shape our nation tomorrow."
Kostiv, an integral member of Sustainability Club since its inception in spring 2018, has single-handedly been responsible for the success of "Grounds for Growing." The project collects used coffee grounds from employees in a designated bin for weekly collection. The grounds are weighed, data is recorded and the grounds are emptied in the compost pile in the Community Garden. The project has kept more than 400 pounds of coffee grounds out of the landfill, providing nutrients to the garden, which in turn will generate organic produce donated to local food pantries. He has served as Student Government Association secretary and was vice president of scholarship for Phi Theta Kappa in addition to working for the Office of Student Life.
Mohammed is a passionate leader who encourages her fellow students to be active and engaged. She serves as a co-president for Skokie Events Team (SET), is a member of the Oakton Helping Others student club and served as a student representative for the Skokie Student Center and Student Center Remodel. In addition to her service to the college in these capacities, Mohammed works in the Office of Student Life as a student employee at the Skokie campus.
Rodriguez is a four-time President's Scholar with a 3.95 GPA and was Vice President of Fellowship for Oakton's chapter of Phi Theta Kappa, where he co-led a project that earned an international Distinguished College Project Hallmark Award. As a Student Government Association senator, he spearheaded an initiative to raise student wages, co-led the elections committee, and was part of the conventions committee. He also is a member of the Hispanic Club, serves as a student member of the Student Success Team, and sits on the Study Breakfast Committee.
Student Government Association President Luz Trejo Camarillo has served as a student member on the Oakton Diversity Council, supporting its efforts to engage the college community in becoming a more inclusive, diverse, and anti-bias institution. She has been a student member of the Hispanic Heritage Month committee and also the American Association of Women in Community Colleges (AAWCC). She has been actively involved in campus and student organizations, including ¡ANDALE! — the Association to Nurture and Develop the Advancement of Latinos in Education — where she is a student coach; president of the Undocumented, DACA, Ally Students (UDAS); co-president of the Hispanic Club; vice president of the French Club; secretary of the Math Club; and active member of the First-Generation Club and International happiness Community. She has also been a peer mentor in the TRIO program.