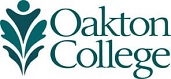 Oakton administrator earns national "Under 40" award
(April 16, 2019) Oakton Community College Director of Student Learning and Engagement Leana Cuellar was recently recognized by the American Association for Women in Community Colleges (AAWCC) with the Under 40 Award, marking the third straight year an Oakton employee has earned the distinction as an outstanding female leader under the age of 40 working at a community college.
"With thousands of community colleges across the country, Oakton has been very fortunate to have four winners of this award within the last three years," says Oakton President Joianne Smith, Ph.D. "It is gratifying to know that we have young woman leaders becoming national role models and making a positive difference for all students, especially young women."
Supporting the advancement of women in community colleges is a core value of AAWCC, and the organization's board of directors takes pride in honoring outstanding women leaders and model programs from across the nation. Each honoree received a necklace engraved with the Under 40 AAWCC insignia at the annual national conference breakfast April 14 in Orlando, Florida.
"These young rising stars are making an impact nationally and at the colleges that they serve," AAWCC President DeRionne P. Pollard, Ph.D. says.
Cuellar is the administrator responsible for three critical areas at Oakton–Learning Center, Testing Center and College Studies. It is her responsibility to make sure Oakton focuses on the learning process. Cuellar's department makes student-centered, data-driven decisions to assess involvement, track patterns of engagement, and actively recruit students to take advantage of these services.
"My goal is to make our services intrusive, not passive," she says. "We know from research that students who have a high level engagement with support services do better than those who don't."
A native of Cicero, Cuellar is a first-generation college graduate. As a former advisor and coordinator for Oakton's TRIO program, she led a grant renewal that procured $1 million in long-term funding. Her work "pays forward" the support she received as a college student.
She earned a McNair Scholarship in the TRIO program at De Paul University, which guided her through her bachelor's degree in anthropology and her master's degree in college student personnel from the University of Rhode Island. She is currently completing her doctorate degree with a dissertation focusing on the academic socialization of Latina doctoral recipients and the institutional supports that increase their retention and completion.