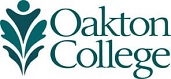 Oakton kicks off year-long celebration of its 50th anniversary with special ceremony
(June 26, 2019) Oakton Community College's 50th Anniversary Opening Ceremony brought more than 300 local dignitaries, alumni, friends, students, trustees and current and former employees to the college's Des Plaines campus June 25 to celebrate the college's role in serving the community over the last 50 years.
"The theme for our golden anniversary revolves around three important words: pride, passion and promise," President Joianne Smith, Ph.D., said. "As we launch our year-long celebration today, we boldly step into this moment with a strong sense of pride. Looking back, there have been many changes to the district and to the college since Oakton's launch in 1969. Yet our mission of extending affordable, quality education throughout a lifetime of learning to anyone who seeks it has remained steadfast."
At the event, the college received a multitude of congratulatory notes from legislative leaders representing Oakton's district, which encompasses 109 square miles, including all or part of 17 towns and villages. Fourteen mayors and councils approved proclamations recognizing the 50th milestone as a "Year of Oakton Community College" in their communities.
Dignitaries in attendance included Illinois State Senators Laura Murphy and Laura Fine, Village of Mount Prospect Mayor Arlene Juracek and George Van Dusen, mayor of the Village of Skokie.
Murphy commended Oakton: "I want to congratulate Oakton for all the work it has accomplished over the years. Oakton is a place that inspires students to learn. Also, Illinois ranks first in the nation for students who start at community college and go on to earn four-year degrees. Oakton should be applauded for its effort in making this happen."
Graduates like Deerfield resident Steve Gassman, former editor of the student newspaper for two years (1982-83), returned to join in the festivities that included the opportunity to share video reflections and messages of congratulations to the college.
Gassman, who works in public relations, credits Oakton for helping to launch his career: "I'm proud to be back where I got my feet wet. Oakton gave me a great opportunity to be successful. It means a lot to be here tonight to celebrate Oakton pride."
Oakton opened its doors to 832 students in 1970. The original "campus" consisted of four factory buildings in Morton Grove. Besides campuses in Des Plaines (1600 E. Golf Road) and Skokie (7701 N. Lincoln Ave.), Oakton offers courses and programs at over 200 off-site locations in the community. Distance-learning options include more than 90 online courses annually. Today, the college serves nearly 510,000 residents and 28,000 businesses as a resource for higher education, workforce training and lifelong learning.
At the event, Smith shared points that speak to the college's collective impact including:
Over the past 50 years, more than 507,000 students have attended Oakton through credit and continuing education classes;
More than 30,000 graduates have earned over 39,000 degrees and certificates while attending Oakton;
Oakton students have gone on to study at prestigious institutions, including Georgetown, Dartmouth and Harvard; and
Oakton now offers more than 80 programs of study.
"I extend my personal invitation to each of you to take full advantage of this gem we have built together, knowing that we will continue to lean into – and live into – the promise that our founders envisioned 50 years ago," Smith said. "I can't wait to see what's in store for Oakton over the next 50 years."
For more information regarding upcoming events commemorating Oakton's 50th anniversary, visit www.oakton.edu/50.