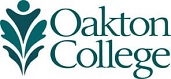 Evanston resident emerges as a leader at Oakton
(June 13, 2019) For many students, college provides opportunities to explore options and learn more about themselves. Evanston resident and May 2019 Oakton Community College graduate Abdallah Simmons discovered he is "leadership material."
When Simmons first enrolled at Oakton, he says he didn't think of himself that way. However, that all changed when he was introduced to the Emerging Leaders program at new student orientation. Through the program, students participate in a range of special activities, workshops, and training opportunities that sharpen their leadership and project management skills.
"I knew that was something I had to do," Simmons says. "I thought, if I want to find out who I really am, I need to get involved with Emerging Leaders. Being involved in the program laid the foundation for my success at Oakton. I learned how to work with other students and by the end we knew how to bring out leadership qualities within each other. I also discovered how vital it is to support and help others."
Being actively involved and helping people is exactly what Simmons did with his time at Oakton. He worked in the Office of Student Life and was engaged in student clubs including the African Student Club, Black Student Union and Oakton Helping Others
"When I started at Oakton, I had no idea there were so many opportunities here," Simmons says. "It was a beautiful surprise."
Simmons emphasized that the support he experienced at the college could be found in every corner: "At Oakton, the faculty and staff are focused on your success. They want to drive you and push you to excel. There were so many people who helped me connect with the resources I needed."
He recalls Evelia Giraldo, his Spanish instructor, stood out as such an example: "She was always looking out for me to make sure I was doing well."
After attending Oakton, Simmons says he is prepared for the next step in his educational journey – transferring to University of Illinois at Chicago, where he plans to pursue an architecture degree.
"Now that I know how to maneuver college, I can seek resources and solve problems," Simmons says. "At Oakton, I discovered myself as a person and developed the skills I need as an adult."