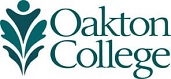 Morton Grove resident flourishes at Oakton through campus involvement
(June 11, 2019) For many students, it takes time to adjust to college life – whether it's adapting to the demands of college coursework, getting to know a new campus or even being completely new to the area. Morton Grove resident and May 2019 Oakton Community College graduate Gabija Ulcinaite knows that feeling all too well after moving to the United States from Lithuania in 2016.
Upon arriving in the U.S., Ulcinaite joined an intensive English program at the University of Illinois at Chicago with plans to transfer to a private four-year institution upon completion. However, when it came time to decide on a college, Ulcinaite choose Oakton.
Although she now describes herself as an outgoing person, she says that didn't come easily: "Initially I held back because I needed time to adapt. At first, I only came to campus to attend my classes."
In her first semester, Ulcinaite earned a 3.5 grade point average and completed 12 credit hours, resulting in an invitation to join Oakton's chapter of the Phi Theta Kappa (PTK) international honor society. Although initially unfamiliar with PTK, she decided to join the organization. After that, everything changed.
"Once I got involved at Oakton, it was my time to shine," Ulcinaite says. "Joining PTK was the beginning of the best experiences I've had in my life."
Ulcinaite credits PTK as a transformational experience that has made her into a strong leader and resulted in cherished relationships.
"I was surrounded by like-minded students who shared the same goals," she explains. "We were motivated by each other. I also learned my strengths and weaknesses as a leader and grew more mature."
After serving as a vice president in her first year at the college, Ulcinaite was PTK president for the 2018-2019 academic year. Through a campaign to raise awareness about PTK and engaging in several service projects in the community, Ulcinaite and her fellow PTK members successfully earned a five-star chapter rating from the international PTK organization, the highest chapter rating possible. She also served as vice president of the Illinois Northeastern Region for PTK. This past spring, she was named to the PTK Illinois All-Academic Team.
Ulcinaite looks back on these experiences with pride, noting, "We achieved so much together, and now I have friends who will be with me for the rest of my life."
Ulcinaite also served as Student Government Association senator, was nominated for the Student Laureate of the Lincoln Academy of Illinois and earned the International Student Laureate Program award.
She plans on majoring in both marketing and management information systems and has already been accepted to several four-year colleges across the country. She has not yet made a decision about the next stop on her educational journey.
Ulcinaite provides some words of wisdom for incoming students: "Get involved on campus as soon as possible. Make sure you experience college life beyond academics. When you get the full taste of college, you'll grow as a person and as a leader and you will find opportunities. Coming to Oakton was the best decision I ever made. The college has fulfilled all of my academic expectations and made me believe that anything is possible through faith in yourself."