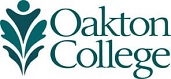 Oakton Honor Society Announces Officers, Inducts New Members
(Dec. 9, 2019) The Oakton Community College chapter of the Phi Theta Kappa International Honor Society (PTK) swore in nine new officers and inducted 105 new members at its Nov. 21 induction ceremony.
The Alpha Iota Phi chapter officers include President Gabriel Dutra (Chicago), Vice President for Scholarships Amelia Baldwin (Des Plaines), Vice President for Leadership Justin Oo (Niles), Vice President for Service Janleigh Lundang (Morton Grove), Vice President for Fellowship Erik Kell (Des Plaines), Recording Officer Javeria Tariq (Skokie), Treasurer Laura Wojtul (Des Plaines) and Director of Marketing Angel Mary (Des Plaines).
"Congratulations to Oakton's new PTK inductees for this recognition of their academic achievements," says Coordinator of Student Life and Campus Inclusion Simi Khurana, who also serves as the chapter advisor. "We are pleased to celebrate their successes and look forward to providing them even more meaningful engagement opportunities through honors activities, leadership training and service programming."
Phi Theta Kappa is the premier honor society recognizing the academic achievement of community college students to grow as scholars and leaders. The society has more than 3.2 million members and nearly 1,300 chapters in nine nations.
Oakton's Alpha Iota Phi chapter has inducted more than 4,500 members and alumni since 1984 and has consistently been recognized as an outstanding chapter. It earned the Five-Star Outstanding Chapter designation in 2018-19. The chapter also received Outstanding Chapter Officer Team recognition, won the Outstanding College Project award and earned a Paragon Award for the chapter advisor.