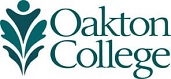 Oakton earns ICCTA Equity and Diversity Award
Oakton Community College President Joianne Smith, Ph.D., (right) and Chief Diversity Officer Juletta Patrick (center) accept the ICCTA Equity and Diversity Award from ICCTA Treasurer Mandy Little at the ICCTA annual banquet. (Photo courtesy of Heartland Community College). 
Des Plaines, Ill. (June 10, 2021) – Recognizing Oakton Community College's commitment to equity, the Illinois Community College Trustees Association (ICCTA) awarded the College with the 2021 Equity and Diversity Award. The honor recognizes the exemplary commitment by an Illinois public community college board and its chief executive officer to achieve diversity, equity and inclusion in the college's education programs. Officials from the ICCTA announced the award at the organization's annual banquet June 4-5, in Normal.
The ICCTA celebrated Oakton for its many diversity-related programs, including:
Implementing the nationally-recognized Persistence Project, which mobilizes faculty to boost student success;
Responding to the COVID-19 pandemic in an equity-minded fashion. From online learning to tech support to financial assistance for those in need, the College reacted quickly and compassionately to help students during an uncertain time. Not only did the College loan Chromebooks and mobile hotspots to nearly 300 students, but it launched the Oakton CARES project to provide more than $900,000 in aid to students who were not eligible for federal funds;
Earning the prestigious designation of Leader College by the Achieving the Dream (ATD) in 2020. Oakton was one of only four community colleges in the country to earn this distinction for improving student success and equity; and
Having its President's Council comprised of 80% persons of color, making it one of the most diverse executive groups in the Illinois community college system.
"At Oakton, we intentionally and continuously work to infuse equity-related policies, procedures, and practices into our daily work lives," says Juletta Patrick, assistant vice president for Student Affairs/dean of Access, Equity and Diversity/Chief Diversity Officer. "Receiving the ICCTA Equity and Diversity Award truly is a testament to all of the tireless and difficult equity work that every major division within the College does.
ICCTA President Jon Looney lauded Oakton for its record of accomplishment in its equity endeavors.
"This is Oakton's fourth ICCTA Equity and Diversity Award in 11 years," he said at the award ceremony. "Reflecting its mission as the 'community's college,' Oakton values its role as an educational institution in a multicultural society. We applaud the work of the Oakton board and staff to reflect the needs of an increasingly diverse world."
Oakton's commitment to equity is outlined in its 2018-2022 Strategic Plan, which includes:
Creating an environment that supports the inclusion, engagement and learning for all students;
Improving outcomes in key milestones for student success with a particular focus on addressing opportunity gaps to increase the success of all students;
Investing in equity-minded policies, practices and behaviors that lead to success for all Oakton students, with particular attention to students of color, first-generation college students, low-income students, students with different abilities, international students, military-connected students, adult learners, LGBTQ students, religious minorities and undocumented students;
Recognizing the relationship between student wellness and student success and employing proven strategies for support of health, mental well-being, food and housing security and physical safety;
Continuing to promote the affordability of an Oakton education by seeking additional resources to support the cost or education for students; and
Exploring models that increase faculty participation in high-impact practices that diminish opportunity gaps and encourage the success of all students.