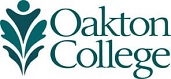 Oakton and Rivers Casino celebrate first ESL graduation for Rivers employees
Rivers Casino employees celebrate completing an English language skills course facilitated through a partnership between the casino and Oakton Community College's Workforce Solutions team. 
Des Plaines, Ill. (June 3, 2021) – Rivers Casino employees celebrated their success after spending the spring improving their English language skills, thanks to a new partnership between the casino and Oakton Community College's Workforce Solutions team. 
Fifteen Rivers employees completed a 13-session English as Second Language (ESL) course this spring — which culminated with a graduation ceremony on May 25.
Through the course taught by Judy Sloane, Oakton Workforce Trainer in English as a Learned Language, students improved their speaking and listening skills, gained a better understanding of corporate communications, and developed more confidence in their English language skills.
"This class helped me feel more comfortable talking to people and will help me be more engaged with customers' needs," said Cecilia Arzola, a smiling graduate. "Judy was supportive right from the beginning. She encouraged me to say things correctly and assisted with my pronunciation." 
The Oakton Workforce Solutions ESL partnership with Rivers Casino is one example of the full range of cost-effective, high-quality training solutions that can be delivered at various locations. Oakton's experienced team of consultants, trainers and program managers develops customized training programs that enhance employee skills and knowledge to drive business results.
"You are our first ESL graduates through our partnership with Rivers Casino," Eilish McDonagh-Hermer, Oakton senior manager, Workforce Solutions, said at the ceremony. "Pat yourselves on the back for taking this opportunity to improve your English language skills. That takes strength and courage. Congratulations on a job well done!"
Sloane took pride in announcing the names of all the graduates who received a certificate and fist bumps from an entourage of Rivers Casino employees who attended the ceremony to show support for the graduates.
"The excitement, enthusiasm and participation was amazing," Sloane said. "Students displayed tons of energy about learning in class. That shined through, especially with all the questions after the sessions." 
And Rivers Casino was happy to have its employees participate.
"We are so excited to partner with Oakton to provide this amazing opportunity for our team members," said Mary A. Vesic, Rivers Casino senior HR representative – training. "Participants told us that they feel more confident when speaking to their fellow team members and leaders. Additionally, some team members started to participate in our volunteer events to not only give back but also to practice their English speaking skills."
Graduating students besides Arzola included: 
Arturo Torres-Saldiver - Chicago
Bertha Estrada - Chicago
Celleste Reyes-Ojeda - Chicago
Constantino Urbano - Chicago
Emilio Garcia - Cicero
Hamza Arefynie - Chicago
ManQing Yang - Chicago
Maria Soto - Chicago
Rebeca Gomez -Bensenville
Ricardo Atanay-Baquero - Chicago
Ruihau Ruan - Chicago
Victoria Amaya - Chicago
Zhaohui Huang - Chicago
Terecita Lema - Chicago
For more information about partnerships with Oakton's Workforce Solutions, call 847-635-1447 or email workforcesolutions@oakton.edu.