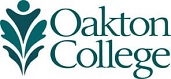 Oakton Faculty and Staff Recognized for Excellence
Congratulations to the Oakton Community College faculty and staff who were recognized for their outstanding contributions to the college community during the "Opening Day" fall semester kickoff event on Aug. 16.
Honors included the Ray Hartstein Awards for Teaching Excellence, Staff Excellence and Living Diversity Awards. The Oakton Educational Foundation generously underwrites the monetary recognition for all Excellence Award recipients.
Excellence Award winners include:
Ray Hartstein Award for Teaching Excellence, part-time faculty: Christopher Bower, English faculty
Ray Hartstein Award for Teaching Excellence, full-time faculty: Bincy Reginold, Professor of Basic Nursing Assistant Training (BNAT)
Staff Excellence Award: Oscar Yaquian, Art Lab manager
Living Diversity Award: Tania Boisson, Student Care coordinator
Bower has taught English and writing courses at Oakton since 2016. In his classes, he strives to help students grow by giving them a voice, allowing them to dig into ideas and let go of some of the stressors that exist in their everyday lives. For example, through a writing assignment called A Cultural Recipe - students explore a dish that is significant to their family, culture and community. Through interviewing family members and other research, students explore their family history, often uncovering powerful stories.
Reginold came to Oakton in 2002, and holds a philosophy that in life and work we should enjoy every day. Each semester, the first assignment she gives students is for them to do something for themselves that they enjoy, but have been unable to do because of a lack of time. That's her way of showing students that as they care for others throughout their careers — as nurses or in other professions — they must also care for themselves.
Yaquian has earned the respect of faculty, staff and students within the Art and Design Department by helping to create a positive work environment while holding himself and others to a high standard. He provides immeasurable support for events like student art showcases and signature charity events like Empty Bowls.
During the pandemic, Yaquian went above and beyond to ensure art labs and other learning spaces were clean and equipped with necessary equipment to keep everyone safe and healthy while still allowing students and faculty to engage in positive learning experiences.
As the Student Care coordinator, Boisson ensures students feel as though they belong and connects them with resources they need, ranging from mental health support to housing, food and scholarships.
Boisson's expertise and knowledge has proved a valuable asset to colleagues. Last fall, she facilitated a Mental Health Literacy seminar, which helped faculty understand and support marginalized and stigmatized students, many of whom suffer from mental illness and disorders.
New this year, Oakton also awarded the inaugural High Impact Practice Awards to full-time faculty, recognizing their exemplary work in implementing high-impact practices into their courses and/or work roles.
High Impact Practice Award honorees include:
Business and Career Technologies: Tracy Fulce, distinguished professor of Business
STEM and Health Careers: Mary Kakenmaster, distinguished professor of Nursing
Liberal Arts: Jessica Pinedo, assistant professor of English
Professor Fulce is recognized for her commitment to engaging students in the learning process with problem-based learning (PBL). Through problem-based learning, her students learn through problem solving using real-world scenarios. Students develop leadership and practical experience by asking questions, thinking critically, solving problems, engaging with others, and assuming responsibility for their own learning. As chair of Business and Professional Studies, Professor Fulce also uses problem-based methodology to discuss racism, equity and inclusion.
Professor Kakenmaster is being recognized for her innovative approach to virtual learning, including through interactive videos and adaptive faculty guided virtual simulations. Using HTML5 Package (H5P) technology, Professor Kakenmaster enhanced the nursing student online learning experience by creating interactive videos to prepare students for class and bridging theory to practical clinical experience by creating virtual clinical simulations. She also helped other faculty members develop simulation videos and trained her peers on the technology. After incorporating these videos, students' academic performance improved in challenging topic areas.
Professor Pinedo was recognized for the comprehensive implementation of active learning modules that incorporate Universal Design and collaboration. She provides multiple ways for students to participate and demonstrate their learning. Professor Pinedo transitioned her active learning techniques online during COVID by having students use discussion boards for peer reviews, Jamboards to discuss and share essay ideas, and Google docs for collaborative revision and proofreading. She also works to connect students to college resources, including by creating a video to help ESL students understand the registration process for synchronous and asynchronous courses.
Congratulations to all of this year's winners!