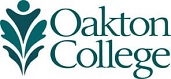 Oakton Celebrates Renovations of Ray Hartstein Campus in Skokie
(L-R): Oakton Community College vice president of administrative affairs Edwin Chandrasekar; President Joianne L. Smith; Oakton Board of Trustees Chair Martha Burns; dean of Adult & Continuing Education/dean of Skokie Campus Jesse Ivory; and director of Student Life and Campus Inclusion Rick Daniels celebrate the completion of renovations to Oakton's Skokie Campus on Sept. 21.
Skokie, Ill. (September 22, 2021) – An extensive round of facilities upgrades at Oakton's Ray Hartstein Campus in Skokie will allow students and community members to learn, study and socialize in modern, comfortable spaces.
College leaders and guests gathered on Sept. 21 to celebrate the completion of the renovations with a dedication and ribbon-cutting ceremony.
"If you haven't been to our Skokie campus in a while, it might even be a bit hard to recognize," said Oakton President Joianne L. Smith, during her remarks at the dedication ceremony. "The totality of the upgrades amount to far more than a facelift, but a true re-imagination of this campus. These spaces are designed to be welcoming and allow for engagement and connection, facilitating the sense of belonging that is critical to the Oakton experience that we are creating."
Highlights of the recently completed Skokie campus upgrades include:
Main Entrance and New Monument Sign on Lincoln Ave. Creating a warm and welcoming feel and improving overall campus accessibility to the public.
New Student Center. Consolidating and reorienting the bookstore, cafeteria and student life areas to create inviting spaces for students to gather. Similar to the vibrancy that has been created in the new Student Center at the Des Plaines campus, this student and public-facing space offers opportunities for student engagement. The new space includes a dedicated Center for Campus Inclusion and Diversity.
Student Street (main hallway corridor). Improving the Skokie Campus' main corridor by visually refreshing the space and creating areas for students to gather, study and socialize.
Classroom Furniture. Replacing fixed tablet armchairs with more flexible instructional furniture that encourages collaborative instruction.
Additional improvements include the renovated Science and Technology Pavilion lobby and outdoor patio.
Oakton's Ray Hartstein Campus in Skokie is home to many of the College's Career and Technical Education degree and certificate programs. These include the engineering, manufacturing, fire science, and emergency medical technician programs, among others.
The Skokie campus is also home to Oakton's Early Childhood Education Center (ECE), which is licensed by the National Association for the Education of Young Children (NAEYC), and provides high-quality care and preschool education for children ages 3-5 years.
Additionally, the majority of Oakton's in-person courses contained within the Adult Education and Continuing Education, Training, and Workforce Development programs take place at the Skokie campus.
"As one Oakton Community College, we are working to serve the same mission of empowering and transforming our students, but it's undeniable that each of our physical locations have unique attributes," said Jesse Ivory, Ed.D, dean of Adult & Continuing Education/ dean of the Skokie Campus. "I look forward to the Ray Hartstein campus continuing its legacy as a vibrant center for teaching and learning, a place to exchange ideas and a resource for all."
Oakton's Skokie Campus is located at 7701 Lincoln Ave, near downtown Skokie. The building opened in 1995 and is named for Oakton's founding trustee, Ray Hartstein, who served on Oakton's Board of Trustees for 35 years.
The Skokie Campus renovations were included in the College's Facilities Master Plan, which was approved by Oakton's Board of Trustees in 2017. The $53 million Master Plan consists of several phases of facilities upgrades spanning five years (2017-2022). Skokie campus renovations totaled about $3.5 million. The Facilities Master Plan renovations continue with the Des Plaines Campus Boardroom, and campus-wide wayfinding signage under construction.