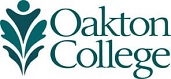 Oakton Closed through April 25, 2020
Oakton Community College is closed through April 25, 2020. All events are canceled.
The health and safety of students, employees and visitors is a high priority, and Oakton is committed to keeping the community informed regarding coronavirus prevention and preparedness.

For more information, visit oakton.edu/coronavirus.