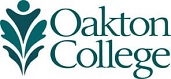 Information Technology Resources
Cybersecurity Policies
Students connecting remotely to Oakton's network must follow information technology security guidelines. 
Expanded WiFi Coverage
WiFi in the parking lots of Skokie and Des Plaines locations is available and fully operational beginning in the fall 2020 semester.
Computer Labs/Cybercafes
Computers are available at the Des Plaines and Skokie locations for students to use who have scheduled classes or appointments on campus. The Cybercafe's are planned to be the primary open computer lab locations unless demand exceeds the available stations. If needed the 1835 (Des Plaines) and P230 Lab (Skokie) will be opened.  Clean keyboard and mouse devices will be available for students. Students will select a clean set of keyboard and mouse and store them in a clearly marked bin after each use. Employees and student workers will monitor the usage and will be available for assistance. Classroom computer labs will be opened as needed to support the requirements of on-campus classes.
Technology Checkout
Technology such as Chromebooks, laptops, WiFi hotspots and webcams will be available for checkout for students. Students must submit an application form to request the technology devices for the fall semester.
Credit and noncredit Continuing Education, Training, and Workforce Development (adult education, Emeritus, ESL, GED Continuing Education for Health Professionals) students can access online resources including D2L, Google Apps, Zoom (or Google Meet) among others. 
Students who need access to specialized software such as Solidworks, Adobe, etc., as part of their coursework will have access to the remote virtual labs. Workstations will be dedicated for this purpose to which students will connect remotely using secure connections.