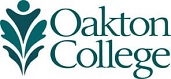 Oakton's Tennis Coach Receives Newcomer of the Year Award
(June 13, 2017) Oakton Community College Men's Tennis Coach Kelly Johnson had a lot to smile about after the Illinois Skyway Collegiate Conference (ISCC) awards luncheon. She was presented with the Newcomer Coach of the Year Award on Friday, June 9, at McHenry County College.
"I was so excited and surprised about winning the award," says Johnson, a resident of Chicago. "All the hard work and effort I put in throughout season paid off, and it was an amazing experience to be recognized by the entire conference."
In just her second year at the helm, Johnson led the Owls to the 2017 National Junior College Athletic Association (NJCAA) Division I Men's Tennis Championship, held May 15-19 at Collin College in Plano, Texas.
In addition to leading Oakton to a No. 24 finish at nationals, Johnson coached the Owls to second place in the ISCC and third place at the NJCAA Region IV Men's Tennis Tournament to qualify for the national championship.
"Kelly has shown a commitment and enthusiasm for tennis that has garnered the attention and respect of the conference tennis community," states Oakton Athletic Director Bruce Oates. "Her success this season in taking a team to the national tournament is a reflection of her skills as a coach and teacher. The Newcomer Coach of the Year is a recognition of her work and passion."
The Newcomer Coach of the Year is awarded annually to a first-or-second-year coach, voted upon by the eight athletic directors in the ISCC. Other league members include College of Lake County, Elgin Community College, McHenry County College, Moraine Valley Community College, Morton College, Prairie State College and Waubonsee Community College.
"Oakton has a long history of success and excellence in tennis, and Kelly is one more link in this historical chain," Oates adds.
A native of Wisconsin, Johnson graduated from the University of Wisconsin-Madison, where she played tennis for a nationally-competitive program. The 23-year-old Johnson had the distinction of being the youngest coach at nationals and was one of the few females to guide a team.
Johnson is enthusiastic about the future of Oakton's tennis program.
"My core values are to develop the leadership and skills of the players while providing guidance on how to be a good role model on and off the court," she says. "I'm looking forward to continued success with this program."