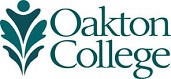 Des Plaines ECE Center
Effective July 1, 2017, the center will be consolidated to the Skokie campus. The Des Plaines center is open through Friday, June 30, and is no longer accepting enrollments.
The center is open 7 a.m. - 6 p.m, Monday through Friday*.
For more information, contact Monique Hudson, site coordinator, at 847.635.1840 or mhudson@oakton.edu.
*Oakton is closed Friday, Saturday, and Sunday during the summer.