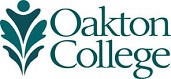 Instructional Technology
IT supports faculty in integrating technology in the classroom, in distance learning, and many other academic endeavors.
Primarily through the Instructional Technology Specialists, and in frequent collaboration with other areas such as the CPD and IMS, IT seeks to provide professional assistance and advice that will help apply technology in a pedagogically appropriate manner. Areas of support include developing and leading workshops, creating user guides and documentation, exploring new applications, and performing one-on-one consultation.
Direct questions about instructional technology to Dann Foster, Manager of User Support, dannf@oakton.edu or x1674.